Wisdom Tooth Extraction – Bedford, TX
When Wisdom Teeth Need to Go
The wisdom teeth usually start to show themselves around the ages of 17 and 25. Unfortunately, there's often not enough room for them in the mouth, and as a result they may become painfully impacted. Dr. Gajeera will need to examine your wisdom teeth to see if they pose a threat to your oral health. If he finds that they need to be removed, he can perform the extraction in-house so that you don't have to visit an unfamiliar specialist's office. Call today to schedule an appointment if you have wisdom teeth concerns.
Why Choose Omega Dental of Bedford for Wisdom Teeth Extraction?
Dentist with years of Experience
Dental Insurance Welcome
Evening and Weekend Office Hours
What are Wisdom Teeth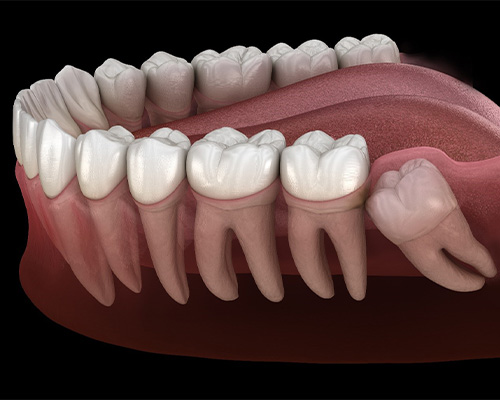 The wisdom teeth are also called "third molars." They are the last set of teeth to erupt in your mouth, usually appearing during late adolescence or early adulthood. When there isn't enough room for the wisdom teeth to erupt, they can become trapped in the gums and jawbone, which can lead to significant pain and cause oral hygiene problems.
Wisdom teeth may have been important at an earlier point in history, but nowadays they're no longer necessary for optimal oral health. In fact, they can potentially cause problems for nearby healthy teeth if they become impacted and aren't removed in a timely manner.
Why Do Wisdom Teeth Need to be Removed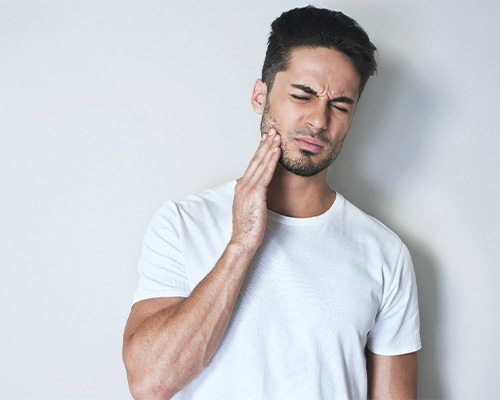 Sometimes wisdom teeth are able to erupt without a problem. If this is the case for you, an extraction likely won't be needed. Most of the time, though, we'll need to remove your wisdom teeth if:
They are fully or partially trapped beneath the gum line.
They are causing continuous pain and pressure in the back of your mouth.
They are damaging the roots of nearby teeth.
They are affecting the alignment of your bite.
They have caused an infection.
What to Expect from the Wisdom Teeth Procedure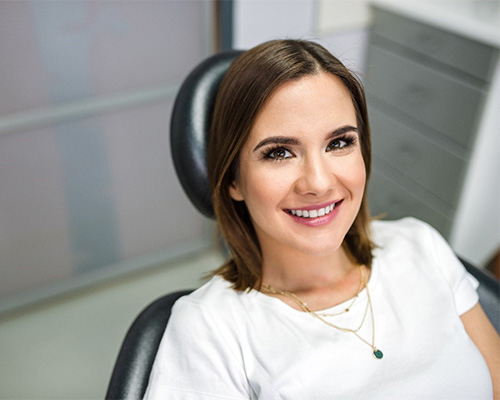 Step one is to administer local anesthesia to your mouth, numbing it so that you don't experience pain during your procedure. You may also be sedated if necessary. Once we've confirmed that you're comfortable, we will proceed with the extraction procedure. A partially erupted wisdom tooth can be loosened and removed with special instruments, but if the tooth is impacted, we'll need to surgically open your gums and remove the tooth in sections.
Recovering from Wisdom Teeth Extraction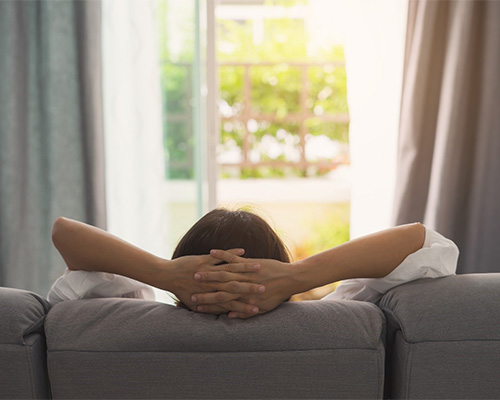 Once you've returned home after wisdom tooth extraction, take any antibiotics or pain relievers that were prescribed to you. You may use a cold compress if there's any swelling, but make sure you only apply it for 20 minutes at a time. It's safe to brush your teeth as long as you avoid the surgical sites. For the first few days, you'll need to consume a liquid diet, then transition to soft foods. You can start to incorporate heartier foods into your meals as your mouth recovers.
Wisdom Tooth Extractions FAQs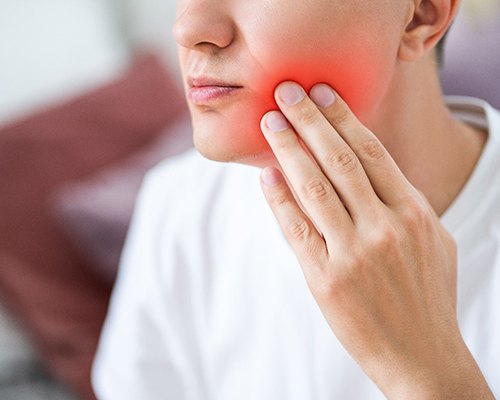 Getting a tooth removed can sound like a scary experience, at least at first. With the help of our knowledgeable team by your side as well as our highly-trained dentists, you have nothing to worry about ahead of your wisdom tooth extraction. Below, you'll find some of the most common questions we've heard over the years followed by our detailed answers for your convenience. If you have other concerns you'd like addressed prior to your procedure, don't be afraid to let us know!
What's the Best Age to Get Wisdom Teeth Removed?
Technically there is no specific age that a person should have their wisdom teeth removed. It's more accurate to say there is an age range that most dentists recommend having the mouth examined to confirm if extraction is necessary (i.e. between 17 and 25). Furthermore, it is also possible to have wisdom teeth removed later in life. In most cases, treatment is performed on those in early adulthood when wisdom teeth are most likely to have fully erupted. Recovery following the procedure is also easier as a young adult vs. one in their late twenties and beyond. This is because the roots of wisdom teeth only grow longer and more embedded into the jaw as you age.
If we do determine an extraction is needed, we recommend scheduling your appointment around a long weekend or holiday break from school so you have more time to rest and recover.
Is Wisdom Tooth Removal Painful?
Prior to beginning wisdom tooth removal, we numb the mouth using a local anesthetic to ensure no sensations are felt during treatment. As a result, you can expect the procedure itself to be largely painless. If anything, you're more likely to experience light pressure as your teeth are gently rocked back and forth from their sockets. However, the numbing qualities of the anesthetic should prevent you from feeling discomfort. Any soreness you experience would happen after the anesthetic has worn off, which will likely occur one to two hours after you've already left our office. As long as you follow our guidelines, you should feel normal again within a week.
How Long Does Wisdom Tooth Surgery Take?
No matter how long your procedure actually takes, we'll make sure you are ready and comfortable before we begin. If needed, we can administer sedation to put you at greater ease. In most cases, removing the tooth takes about 15 to 20 minutes, so removing all four teeth can take as long as 90 minutes.
How Do You Avoid Dry Socket After Wisdom Teeth Removal?
Once a wisdom tooth is extracted, a blood clot will begin to form over the socket that protects the bone tissue and nerves underneath. This ensures foreign materials such as air, food and bacteria cannot reach it. It also promotes faster healing. If the blood clot is removed, it can cause significant pain and prolong the healing process. We'll provide you with a specific set of instructions to follow after your treatment. For example, you'll need to avoid smoking, drinking through a straw, blowing your nose, spitting or rinsing your mouth with force, eating hard foods, and other steps. If you fear you have dry socket, call us immediately.