Children's Dentistry – Bedford, TX
TLC for Growing Smiles
As your child grows, their smile undergoes many changes and stages of development. Fortunately, we can guide you both through these phases! The experiences your child has at the dentist's office while they're young can have a huge impact on them through adulthood. When it comes to their oral health, our team at Omega Dental wants to give your child positive dental experiences so that they learn the importance of healthy habits, such as brushing, flossing, and regular hygiene visits, early on. In other words, we want to help your child keep their smile strong for a lifetime!
If you need to schedule an appointment for your child, just contact us. We're happy to go the extra mile to make sure your child feels comfortable and at ease.
Why Choose Omega Dental for Children's Dentistry?
Husband-Wife Team with Kids of Their Own
Dental Insurance Welcome
Convenient Appointment Times Available
When Should My Child Visit the Dentist for the First Time?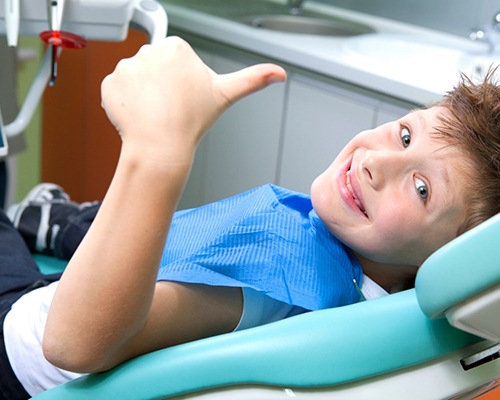 It may seem early, but the first dental visit should occur about six months after the first tooth erupts or by the time your child turns one year old. At this point, we are mainly concerned about establishing a good rapport with your child, checking for early signs of decay, and monitoring their oral growth and development. Our visits with them will mainly consist of a gentle examination as well as answering any questions you may have about what to expect within the following six months. We can also talk about potential risks for your child's smile, such as sucking on a pacifier or thumb, and how to overcome these risks.
As your child continues to get older, our hygienists can start to gently remove any plaque buildup. We also take the time to teach your child how to care for their teeth and gums at home, instilling healthy habits that will serve them well throughout their entire life!
When your little one starts to get adult teeth, starting with their six-year molars, we can talk about getting dental sealants to protect these permanent teeth from decay and adding in fluoride treatments to their routine appointments.
Our Kid-Friendly Services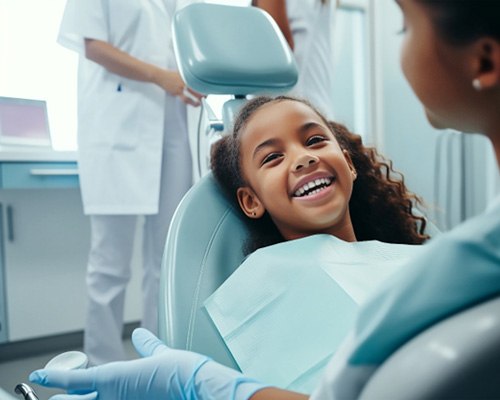 At Omega Dental, we can customize our treatments to specifically cater to your child, namely with the following services:
Dental checkups and cleanings
Dental sealants
Fluoride treatments
Nightguards for bruxism (teeth grinding)
Tooth-colored fillings
Emergency dentistry
And more!