BCBS Dentist – Bedford, TX
Learn More About the Benefits of BCBS
Do you have BCBS dental insurance in Bedford? You are privileged to have a job that allows you to take advantage of oral health benefits, and you should certainly use those benefits to the full. Whether you are just looking to maintain your smile, or you want to address issues like cavities or gum disease, your policy can likely help you out. How can you make sure that you are getting as much as possible out of your dental plan? Rely on our team to assist you. We are in-network with BCBS, and we are ready to help you navigate the nitty gritty details of your insurance.
BCBS Coverage Availability & Fees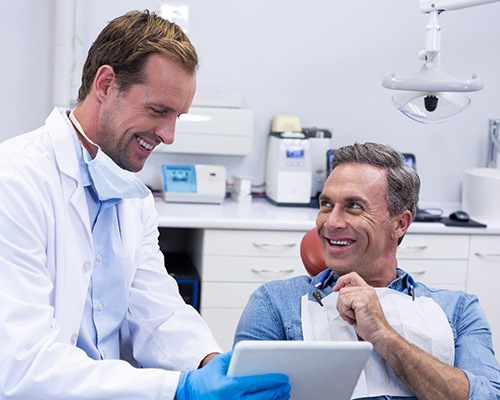 BCBS dental plans in Texas are also known as BlueCare Dental plans. They are available primarily through employers, rather than as individual policies. To find out the details of how your coverage works, you may need to login to your plan's online portal or ask your company's HR representative to help you understand your benefits.
In the meantime, we can give you an overview of how many plans work. It is fairly standard for preventive care, such as cleanings and checkups, to be 100% covered. Under BlueCare's system, restorative services may be 30 – 50%. One great perk of BlueCare is that if you have a PPO plan, teledentistry visits may be covered as well.
As an in-network BCBS dentist in Bedford, Dr. Gajera and our team want you to get the most out of your benefits. To that end, we can help you use your plan in a strategic way that keeps your out-of-pocket costs as low as possible. For example, your policy might have an annual maximum (the great dollar amount that BCBS is willing to pay out for approved services within a calendar year). We might be able to schedule treatments across calendar years so you can use two annual maximums rather than one for major treatments.
Meet Laura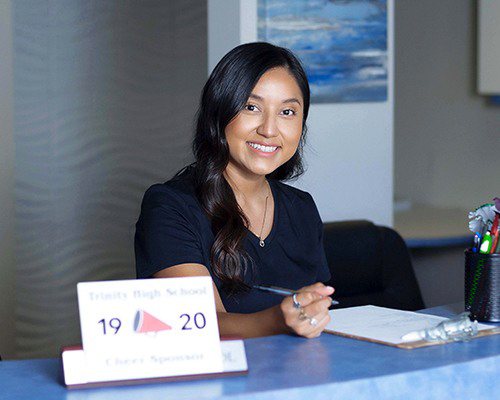 Laura, who works the front desk in our practice, takes the lead in handling insurance matters for our patients. She can assist you as you verify your coverage and file your claims. She works hard to communicate with insurance companies so patients always get the fair compensation they are entitled to. Laura is known for her friendly nature — she loves to be part of the reason why our patients smile! Contact our office today to find out more about how Laura and our team can help you get the most out of your BCBS dental policy.