Dental Implants – Bedford, TX
Begin
Rebuilding

Your Smile Today

When a tooth is extracted or is knocked out of your mouth, both the root and the crown are lost. A traditional bridge or denture can replace missing crowns, but they don't do anything to address the absence of the roots that held the teeth in place and helped maintain a healthy jawbone. If you want your new teeth to be as strong, stable, and lifelike as possible, schedule a consultation with our dentists to learn about the most advanced solution for tooth loss: dental implants in Bedford, TX.
Why Choose Omega Dental of Bedford for Dental Implants?
In-House Implant Placement
Affordable, Quality Service
No Wait Time for Appointments
What is a Dental Implant?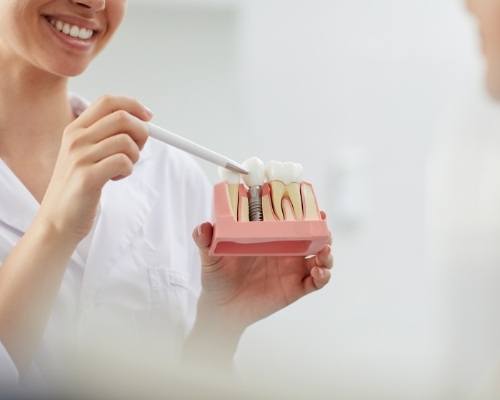 Dental implants are thin, screw-like titanium posts that are used to anchor crowns, bridges, and dentures in place. After an implant has been placed into your jaw, it will slowly become integrated with the surrounding bone, effectively becoming part of your body as a result. Your permanent restoration will then be attached to the posts. Depending on how extensive your tooth loss was, you may need more than one implant to be placed in different parts of your mouth.
The 4-Step Dental Implant Process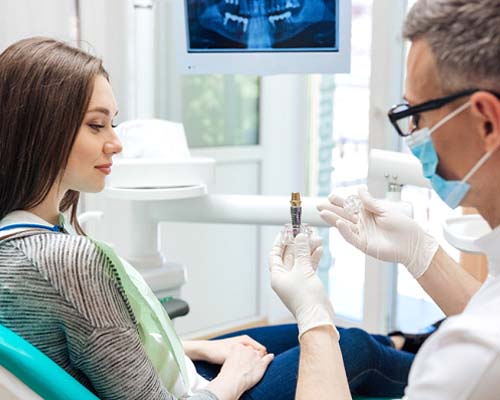 Our dentists at Omega Dental of Bedford have undergone advanced dental implant training, meaning they're qualified to perform the entire process from start to finish in one convenient location. Even though it can several months to complete the process, the long-term benefits are certainly well-worth it. Since everyone's smile is unique, the journey can vary greatly from person to person. However, there are four basic steps of the process that are the same for every patient. That said, here's a general idea of what you can expect when getting dental implants in Bedford.
Initial Dental Implant Consultation
The first step on your journey towards a fully restored smile is a dental implant consultation with our team. At this appointment, we'll conduct a thorough oral examination using cutting-edge dental technology. We'll ask about your oral health, overall health, lifestyle, and goals to determine your candidacy for treatment. This is the perfect time to ask any questions you may have about the process!
Once it's decided that you're ready to move forward with the dental implant process, you can begin scheduling your future appointments. If you need preliminary work (i.e., bone grafting, gum disease therapy, extractions), make sure you get it taken care of before advancing to the next phase.
Dental Implant Surgery
Contrary to popular belief, dental implant surgery is a fairly simple procedure. After your dentist has numbed your mouth and administered sedation (if it was necessary), they'll make small incisions in the gum tissue to access the jawbone. The implants are inserted at precise locations and angles using advanced technology and techniques, and then your gums are sutured shut. Sometimes, patients are fitted with a protective cap to maintain the shape of the gums and shield their implants throughout the healing process.
Dental Implant Osseointegration & Abutment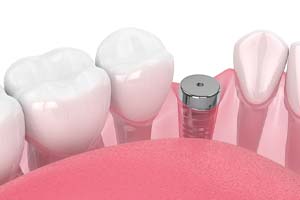 After dental implant placement, you'll spend three to six months waiting for osseointegration to take place. This is the natural process that allows implants to fuse with the surrounding bone tissue, providing unmatched stability and a solid foundation for your artificial teeth.
Once osseointegration is complete, you'll return to the office for a second minor surgery to receive your abutments. They're small metal connector pieces that are placed on top of your implants, serving as an anchor for your final personalized dental crown, bridge, or denture.
Delivery of Dental Implant Restorations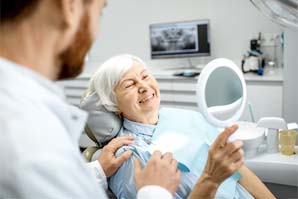 While you recover, a trusted dental lab will create your final restorations using impressions of your natural smile. Each restoration is made from materials that mimic real tooth enamel, right down to the way they reflect light. Once your new teeth are attached to your abutments, they'll be indistinguishable from the pearly whites you had before. You can start enjoying the many incredible of dental implants right away!
Benefits of Dental Implants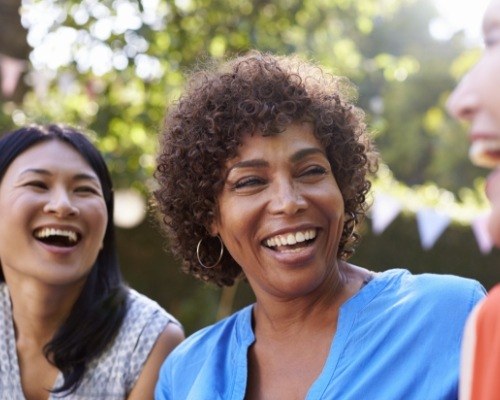 Patients and dentists alike tend to vastly prefer dental implants for many reasons. For one, the titanium posts are very durable. Once they have been placed in your mouth, they can easily last for decades while only requiring basic maintenance. Also, they prevent your new teeth from slipping and improve your ability to safely chew all kinds of foods. And of course, they are the only form of tooth replacement that can help you prevent bone loss in your jaw by providing the stimulation your natural teeth normally provide. Let's explore the benefits of dental implants in Bedford in greater detail:
Day-to-Day Benefits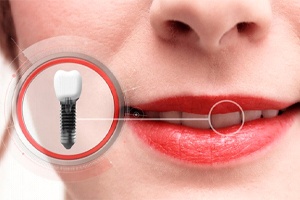 While traditional dentures only replenish about 20% of your original biting force, dental implants can restore 70% or more. That, coupled with their stable placement in the jaw, lets you chew all of your favorite foods with ease. Additionally, you can enjoy hot beverages like tea or coffee without worrying about harming your smile. Unlike conventional dentures, dental implants in Bedford do not warp and lose their fit when exposed to heat.
Health Benefits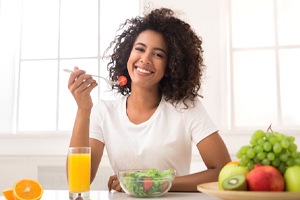 As the only tooth replacement option that stimulates the jawbone, dental implants prevent the bone loss that normally occurs after teeth have been missing. Not only does this maintain your facial shape and keep you looking young, but it helps your jawbone support your remaining teeth and prevent further tooth loss.
Long-Term Benefits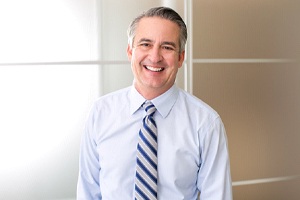 Of all of the ways to replace missing teeth, dental implants in Bedford have the highest success rate (more than 95%) and the longest average lifespan. This is due to osseointegration, or the process by which the implant posts fuse to the jawbone, creating a sturdy foundation that can last a lifetime. Once osseointegration is complete, your implants can last for several decades with very little maintenance.
Who Dental Implants Can Help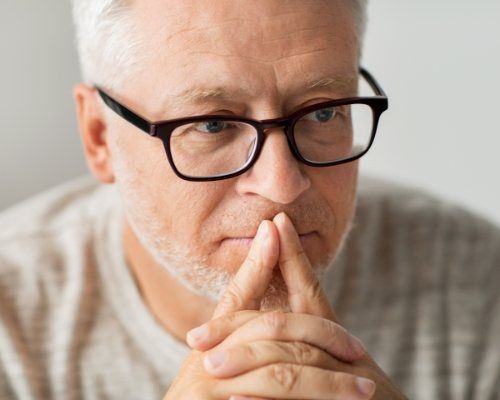 Generally, we recommend dental implants to anyone who has lost at least one tooth. Your dental implant dentist in Bedford will need to take X-rays of your mouth to determine whether you're suffering from bone loss or an infection that could prevent the posts from joining with the jaw properly; that said, such complications can be addressed with procedures such as bone grafting. If you're interested in learning more about your eligibility for dental implants, contact us today to schedule an appointment.
Who is a Good Candidate for Dental Implants?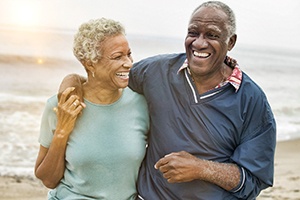 As we mentioned before, most adults are eligible to receive dental implants if they are missing at least one tooth. Capable of treating all types of tooth loss, these prosthetics are widely popular among those who prefer a more permanent and longer-lasting tooth replacement. With more than 3 million people living with them in the United States and that number growing by 500,000 each year, there's a good chance you'll be a good candidate for treatment.
During your initial consultation with Dr. Gajera, you can expect him to consider the following factors:
Your oral health must be without tooth decay or gum disease, as both can cause implant failure. Should either be present, we will determine the severity and consider tooth extraction and/or periodontal therapy if necessary.
You must be in great overall health since dental implant placement requires minor oral surgery.
You must have enough jawbone to support your dental implants in Bedford and customized restoration.
Below, you'll find a few different situations where you could benefit from dental implants and a specific kind of restoration.
Missing One Tooth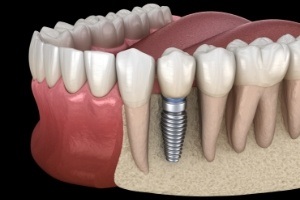 As you might expect, it only takes one dental implant to replace a single tooth. You may end up with a gap in your smile due to an accident or as a result of an extraction; either way, it's best to have the implant placed as soon as possible before too much bone loss has occurred. Even the loss of one tooth can cause you to experience difficulty eating, speaking, and smiling. Fortunately, the implant will be topped with a carefully designed porcelain crown that has been shaded to match the color of your other teeth.
Missing Multiple Teeth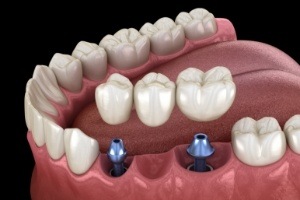 When you have lost several teeth in a row (but still have plenty of healthy teeth overall), you can consider literally "bridging" the gap with a prosthetic called a dental bridge. Made of two crowns that hold at least one prosthetic tooth between them, bridges normally sit on two abutment teeth. When choosing a traditional bridge, your abutment teeth have to be filed down to make room for the restoration. If you want to preserve as much of your natural dental structure as possible, you can have your bridge supported by a pair of implants.
Missing All Teeth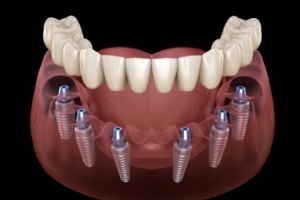 The prospect of getting an individual implant to replace every tooth in your mouth might seem intimidating, but fortunately, there's no need for that. Whether it's your upper or lower jaw, four to eight implant posts are typically all you need to support full implant dentures. Many patients who already wear traditional dentures consider implants to be a significant upgrade since they no longer have to remove their false teeth for regular cleanings and don't have to worry about inconveniently timed slips.
Learn More About Implant Dentures
Start-to-Finish Convenience
Unlike many other dental offices, we can offer both implant placement and restoration under one roof. Other dentists might need to refer you to a separate oral surgeon for the first part of the process, but we can deliver the high-quality care you deserve right here. That means there's no need to travel to a different dental office across town, and your smile will remain in the hands of an expert that you already know and trust.
Understanding the Cost of Dental Implants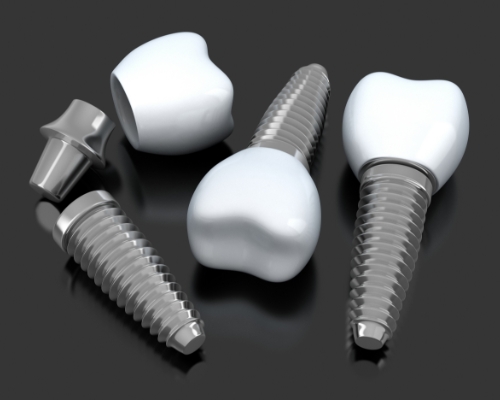 Dental implants admittedly cost more than traditional restorative solutions, like dentures and dental bridges, but their long-term benefits make them well worth the price. Because they can last for 30+ years, you may end up saving more in the long run since you won't have to get them adjusted or replaced as often.
That said, the cost of dental implants in Bedford can vary greatly from patient to patient based on many factors. We'll review some of these factors during your consultation. Here is a general outline of what you can expect:
Preliminary Treatments & Dental Implant Surgery
Some patients may require preparatory work before they can be eligible for dental implants. These procedures (which may include bone grafting, tooth extractions, gum disease therapy, etc.) will increase the overall cost of your treatment, but it will be worth it to ensure your new smile has a healthy foundation.
Fortunately, you can save money by seeing Omega Dental of Bedford for dental implants. Many dentists have to refer their patients to an oral surgeon for the surgery, but we can perform every step of the process under one roof, saving you time and money that would otherwise be spent visiting an unfamiliar specialist.
The Parts of Your Dental Implant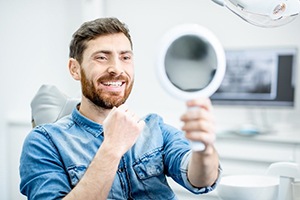 The number of implant posts you'll need will impact your cost. Additionally, the materials used (implants can be made of titanium, zirconia, or other materials) as well as the brand chosen will also affect your overall cost. So will the type of abutment (metal attachment that connects your implant to your restoration). Your implant dentist in Bedford should be transparent about which type of implants they're using and why.
Final Dental Implant Restoration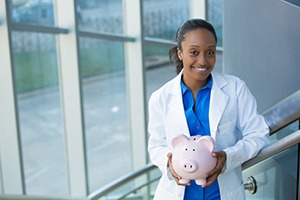 Similarly, the type of restoration you're receiving will influence the cost of your treatment. Generally, a crown that tops a single implant post will cost less than a bridge or partial denture supported by two implants, and a full denture retained by four to six implants will cost even more than that. Again, we can go over this information during your consultation so that you know what to expect.
Does My Dental Insurance Cover Dental Implants?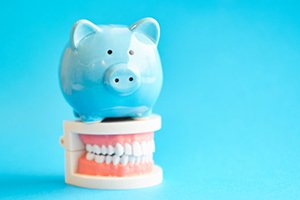 A dental insurance plan can sometimes help pay for dental implants. Although it may not cover the costs of the posts themselves, your benefits can often be applied towards the restoration and other related procedures (such as periodontal therapy to treat gum disease before the surgery).
At Omega Dental of Bedford, we are in-network with several of the most popular PPO dental insurance plans. However, just because you're not in-network doesn't mean you can't save with us. Our knowledgeable team members can take a look at your unique plan, file your claims for you, and make sure you get the most out of your benefits.
Making Dental Implants Affordable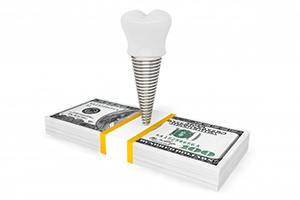 If you're uninsured, or need assistance financing your new smile, don't worry. We can help make dental implants in Bedford affordable, including partnering with CareCredit. This third-party company lets you break up the cost of your treatment into monthly, budget-friendly installments, often at little to no interest.
Currently, we also have a special offer for a FREE dental implant consultation! If you're interested in replacing your missing teeth, you won't have to spend a cent learning more about the most comprehensive solution that modern dentistry has to offer!
Dental Implant Technology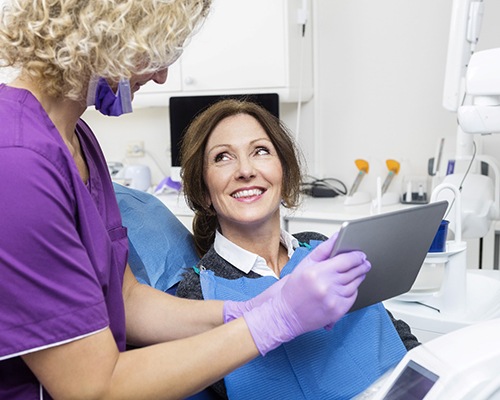 Part of the reason why dental implants have such a high success rate is the highly advanced technology used to plan out and perform the procedure. Our dental implant technology in Bedford makes this method of tooth replacement truly stand out compared to all others. At Omega Dental of Bedford, we always utilize the most state-of-the-art equipment we can; that way, your treatment is as safe, comfortable, and successful as possible. Here are a few examples of the way that our technology can help you feel at-ease throughout your dental implant treatment.
3D Cone Beam Imaging/3D CT Scanning
Before we can place your dental implants, we have to know the precise location and angle at which they should be positioned. A traditional 2D X-ray simply isn't detailed enough to give us a clear picture, but our 3D cone beam scanner certainly is.
This device rotates all the way around your head, capturing more than a hundred images as it does so. By combining these images, our computer can generate a fully three-dimensional model of your mouth, jaw, and face. Not only does this technology help us avoid the nerves, sinuses, and other delicate areas when placing the implants, but it also gives us an idea of whether you'll need bone grafting in your jaw beforehand.
Guided Dental Implant Surgery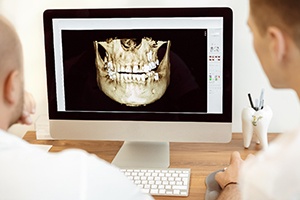 Using the 3D model generated by the cone beam scanner, your implant dentist in Bedford can place your implants with extreme precision. Our computer can create a surgical guide that we'll use during your procedure, ensuring that the posts end up exactly where they need to be. As a result, there will be fewer (if any) surprises or hiccups in the process. Your recovery period will also most likely be faster with a significantly reduced risk of complications.
Antibacterial Coating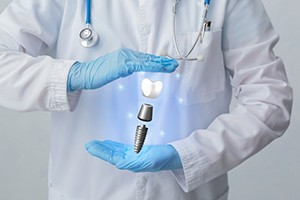 As an added safety measure, we can coat our dental implants in Bedford with a thin layer of an antibacterial substance. Oral surgery always carries a risk of infection, but with this antibacterial coating, we can bring that risk down to almost zero. Of course, our team will make sure that you have all of the information you need to minimize the chance of post-op infection, but by taking this precaution, we're sure you'll enjoy much greater peace of mind than you would have otherwise!
Dental Implant Post-Op Instructions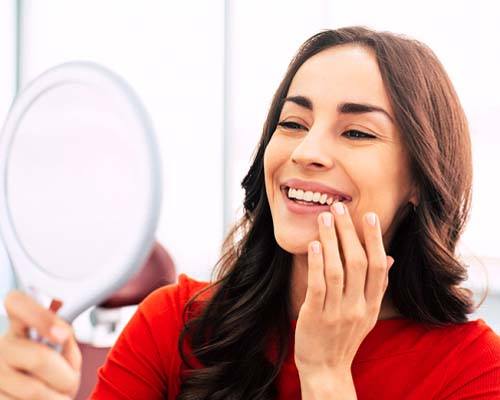 After dental implant placement, the recovery process comes next. It may seem daunting, but it's nothing to be worried about! At Omega Dental of Bedford, we'll provide you with all the information you need to make a speedy recovery. If you have any questions or concerns about the process, we're more than happy to address them for you to ensure you have as few complications as possible. Below, we've included some helpful information on what to expect after getting dental implants in Bedford.
What to Do Directly After Dental Implant Surgery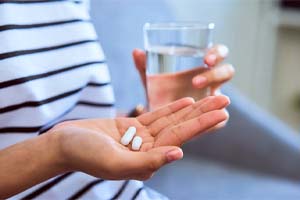 Following your surgery, it's critical to leave the forming blood clot around the implant untouched. It's necessary to keep it intact so that the gums heal smoothly and properly. To do this, make sure you abide by the following rules:
Do not spit. Use tissues to clean your mouth or swallow your saliva.
Do not drink out of a straw. It can easily dislodge the blood clot.
Do not smoke throughout the healing process. Not only does it negatively affect your recovery, but it increases your risk of infection and gum disease.
Keep your fingers and tongue away from the surgical site. You don't want to introduce unwanted bacteria to the area.
Common Side-Effects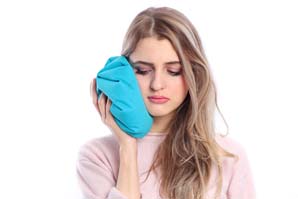 Have you ever gone through oral surgery before? If not, you're probably nervous about what to expect. Luckily, we can ease your nerves by going over some common side effects. Knowing what you might experience will help you understand whether you should be seeking help or not. That said, here's what you can expect:
Intermittent bleeding that can be minimized by placing clean gauze over the area and applying light pressure. This can continue for several days following your surgery.
Swelling that can occur for 72 hours after your procedure. In some cases, it may last over a week. Using a cold compress on the outside of your mouth can help reduce swelling and minimize discomfort.
General discomfort that can be relieved with over-the-counter or prescribed medication.
Keep in mind that these side effects should be temporary and gradually subside as time goes by. If your symptoms are worsening, don't hesitate to contact our team for guidance.
Diet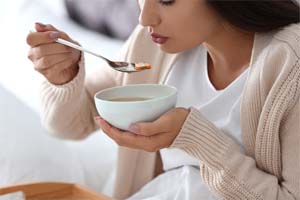 For the first few days after getting dental implants in Bedford, it's recommended that you stick to a diet of soft, non-abrasive foods. Here are some items you should stock up on before your surgery:
Mashed potatoes
Yogurt
Ice cream
Pudding
Soup (make sure it's not too hot)
Pasta
Scrambled eggs
Smoothies
Most patients can return to their normal diet as soon as they feel up for it. However, it's still a good idea to limit crunchy or tough foods and avoid chewing directly on the implant site.
Health & Oral Hygiene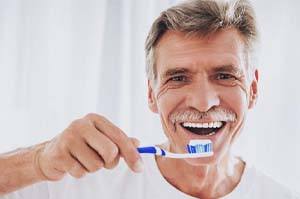 It's crucial to take proper care of your gums and existing teeth after dental implant placement. You must keep them as clean as possible to avoid any complications. That means brushing your teeth like you normally would, being careful around the surgical site, and rinsing with warm salt water two to three times each day and after every meal. Avoid using mouthwashes that contain high levels of alcohol as they can irritate your oral tissues or dry out your mouth.
What to Do After Your New Teeth Are Attached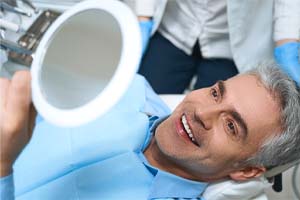 Once you're fully healed and your abutments have been placed, you'll return to the office for the placement of your final restoration. When your new crown, bridge, or denture is attached to the implant, you may experience mild sensitivity in the gum tissue. Luckily, this can easily be managed with pain medication. This part of the procedure is relatively simple and shouldn't result in uncomfortable side effects like bleeding or swelling. You'll be ready to smile that same day!
Maintaining & Caring For Your Dental Implants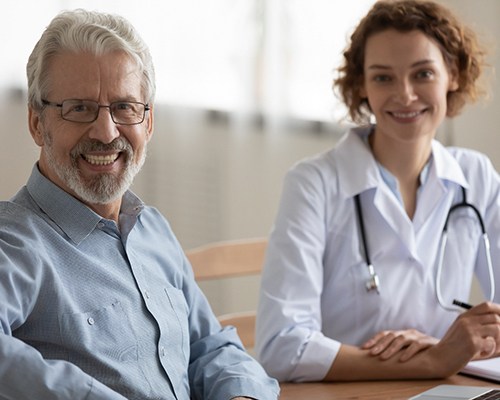 Understanding proper dental implant care in Bedford is necessary to ensuring the lifespan of your prosthetics. Your new smile is an investment, so making sure you have the right tools, techniques, and habits will carry your new and improved teeth a long way. At Omega Dental, our doctors and team members are here to provide the help you need to keep your dental implants looking and feeling their best. From maintaining a good oral hygiene routine to protecting your teeth with a customized mouthguard and even breaking bad habits, you can expect to enjoy your permanent prosthetics for years to come as long as you follow the simple guidelines listed below. If you have any questions or concerns, please don't hesitate to contact our office.
Making Oral Hygiene a Priority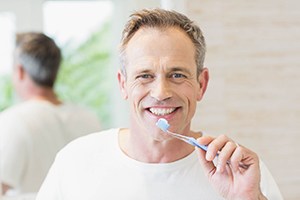 Maintaining a healthy smile is key no matter if you have dental implants or not. However, should you have one or more titanium posts, it is imperative that you practice good oral habits at home. Although tooth decay cannot occur on artificial teeth, it can develop on and around natural, healthy teeth. The same goes for gum disease, which can negatively impact your smile. By brushing twice daily for two minutes, flossing at least once, and rinsing with an ADA-approved mouthwash, you'll enjoy fresher breath and a healthier smile.
Eating a Healthy Diet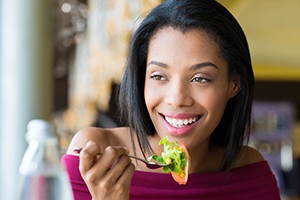 Too much sugar and starch can wreak havoc on your oral and overall health. Not only will your teeth and gums be impacted but your waistline will continue to expand as well. Watching what you eat and making healthier choices when it comes to snacking and mealtime will give your natural and artificial teeth the greatest chance of success. Lean proteins, dairy, foods high in Vitamin C, leafy greens, and plenty of fruits and vegetables will positively affect your oral health and, in turn, benefit your heart, brain, gut, and other areas of the body.
Breaking Bad Habits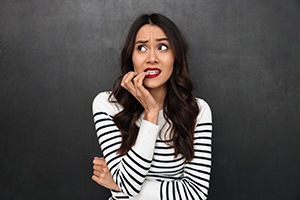 Want your dental implants in Bedford to remain damage-free? Then consider breaking your bad habits. Do you smoke? Are you prone to eating ice or chewing on inanimate objects? Do you tend to bite your nails when nervous? Any of these lifestyle habits can cause significant damage to your real and artificial teeth. As a result, you can be left paying more money to have your implants replaced. If you need assistance to break these bad habits, look for available resources online or ask your dentist.
Protecting our Dental Implants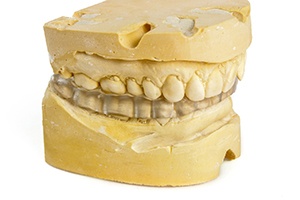 If you enjoy time spent playing your favorite sports, you'll want to make sure your dental implants are protected by using a customized mouthguard. These unique oral appliances fit over your teeth and safeguard your smile from potential injury. Whether it is a hard hit, sudden fall, or foul ball, sports-related injuries are increasingly common. Fortunately, our team at Omega Dental is here to deliver timely treatment should you need it. If sports isn't the reason for inquiring about a customized mouthguard, it may be that you grind your teeth at night while asleep. These mouthguards can help reduce wear and tear and keep your teeth apart throughout the night.
Scheduling Regular Dental Checkups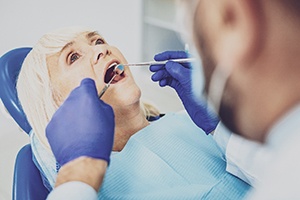 No matter if you still have natural, healthy teeth or a smile that consists of implant dentures on both the upper and lower arches, seeing your implant dentist in Bedford every six months is important. These visits will allow them to examine your smile and check for any minor or more severe damage. Also, they will look for signs of tooth decay, gum disease, and oral cancer to make sure no problems are developing that could put your healthy teeth, soft oral tissues, and dental implants at risk.
Dental Implant FAQs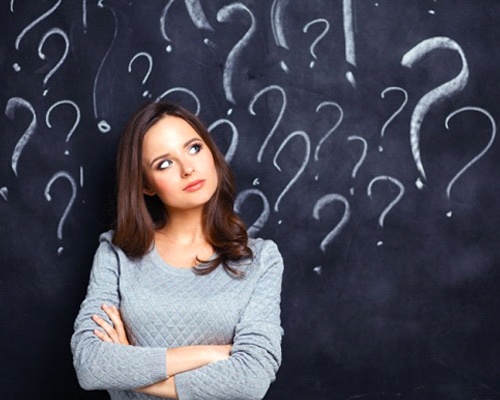 If you're ready to rebuild your smile with the next best thing to your natural teeth, then dental implants in Bedford may be just the treatment for you. Because they replicate the entire structure of a lost tooth, they allow you to enjoy countless benefits over traditional dentures and bridges. While you can't wait to experience those benefits for yourself, it's normal to have a few concerns before going through with the treatment. That's why we've included the answers to a few frequently asked dental implant questions.
Does Getting Dental Implants Hurt?
We understand why one would think getting dental implants would hurt, but the surgery is actually much more comfortable than you might expect! Most of the discomfort comes from the gums being sore for a few days after the procedure. If you've had a tooth extraction before, you can expect a similar recovery process. In many cases, an over-the-counter pain medication is all that's needed.
Rest assured that before placing the implants, your implant dentist in Bedford will ensure you're completely comfortable and your mouth is fully numb.
How Long Do Dental Implants Last?
Traditional bridges tend to break down after about ten years. Dentures need to be replaced even sooner than that, as the jaw naturally changes shape after tooth loss ad conventional dentures lose their snug fit.
Because dental implants are firmly embedded in the jawbone, you can expect them to last significantly longer. With the right maintenance, you can expect your implant-retained teeth to last for 30 years or more!
Do Dental Implants Require Any Special Care?
Luckily, taking care of dental implants isn't all that different from caring for your natural pearly whites. When properly cared for, implants have a success rate of 95% in non-smokers. Follow these tips to make your new smile last as long as possible:
Quit smoking. Tobacco use slows healing, making it harder for your implants to fuse with your jawbone.
Brush and floss every day. You may want to invest in a water flosser or interdental brush to help you clean the areas around your implant restoration.
Visit us for routine checkups and cleanings every six months. We can ensure your implants are still in great shape and spot any potential problems before they cause serious damage.
Wear a nightguard if you habitually grind your teeth while you sleep.
Will People Be Able to Tell That I Have Dental Implants?
Not at all! The restoration placed on top of your implants will be custom-made to mimic the size, shape, and color of the teeth you were born with. Once we place your personalized crown, bridge, or denture, no one should be able to tell the difference!
Are Dental Implants Safe?
You can rest assured that dental implants are very safe. When placed by a qualified professional, these restorations are harmless and highly successful.
For starters, dentists take every precaution for placement surgery. Most use 3D imaging technology to map the procedure beforehand, ensuring nothing goes wrong. Similarly, they'll help patients with low jawbone density or gum disease so treatment succeeds.
The implants themselves, meanwhile, won't cause any oral damage. They're non-toxic and don't irritate mouth tissues. Plus, they'll boost your oral health by strengthening your jaw.
What Can Cause Dental Implants to Fail?
Implants rarely fail – their success rate, after all, is over 95%! Still, the fact remains that they can do so. In such cases, the reason is usually one of two things: peri-implantitis or failed osseointegration.
Peri-implantitis is a form of gum disease that develops around dental implants. It usually stems from poor oral hygiene, which damages the bone and gums supporting the prosthetics. Should the condition progress too far, it'll usually result in implant failure.
On the other hand, implants also fail when they don't integrate with the jawbone. This lack of osseointegration can result from natural causes, tobacco use, and other factors.
To ensure effective treatment, your dentist will offer guidelines for minimizing implant failure risk.
Will I Have to Take Off Work for Dental Implant Surgery?
Thankfully, implant surgery and its short-term recovery take a short time. Most patients only need a day or two before they're ready to return to work.
That said, every case is different. Depending on your situation, the dentist may suggest more time away from work. Should that happen, you'll want to adjust your schedule accordingly.
For example, you'll likely need three or four days off if you have a demanding job. Heavy exercise could divert blood from the implant site and delay healing. In that scenario, then, you might want to schedule your procedure on a Thursday or Friday.
Do Dental Implants Feel Natural?
You may worry that your final implants won't feel natural, but there's no reason to fear. Once placed in the jawbone, you'll consider these restorations like the roots of your natural teeth.
For starters, the implants don't have nerve endings. Any sensations you feel near them – heat, cold, pressure, etc. – come from the surrounding gum tissue.
Furthermore, the porcelain used for veneers has a very smooth texture. Running your tongue over it won't cause foreign or unfamiliar sensations compared to your other teeth.