Preventive Dentistry – Bedford, TX
Excellent,
Affordable Care

for Your Smile

More than 90% of American adults between the ages of 20 and 64 have had a cavity at some point in their lives. Even those who are careful about brushing and flossing every day are still at risk, especially if they miss a few key spots in their mouths without realizing it. Fortunately, Drs. Prashantkumar and Julyat Gajera are experts in detecting and/or treating tooth decay and other oral health issues in their earliest stages. Has it been at least six months since your last dental appointment for preventive dentistry in Bedford, TX? Call us to schedule a checkup today.
Why Choose Omega Dental of Bedford for Preventive Dentistry?
Quick, Easy
Scheduling
Treatments for Adults and Children
Focus on Providing Quality Service
Dental Checkups & Cleanings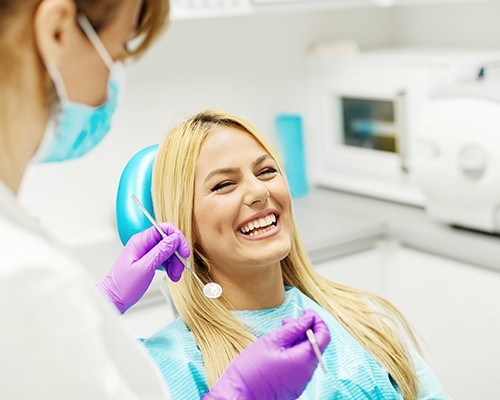 Most people need at least two checkups and cleanings a year to keep their smiles free of plaque and calculus (tartar). During these regular visits, we'll find and remove the harmful substances that have built up on your teeth over the last several months, leaving your grin brighter and cleaner when you walk out of our dental office. We'll also check for the warning signs of cavities and gum disease; if we find anything to be concerned about, we'll start planning an appropriate form of treatment right away. Are you due for a dental checkup and cleaning? Get in touch with us to schedule your appointment today!
Why Are Regular Dental Checkups & Cleanings Important?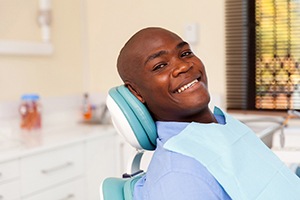 You may wondering why dental checkups and cleanings needs to happen every six months, especially if you don't seem to be experiencing any dental problems. In most cases, issues arise over time, and the sooner they are identified and treated, the better. In other words, this routine appointment is the perfect opportunity for your Bedford dentist to catch gum disease, cavities, and other problems before they cause serious damage to your smile. Along the same lines, a dental cleaning on a frequent basis helps to keep plaque under control to prevent future issues.
What to Expect During a Dental Checkup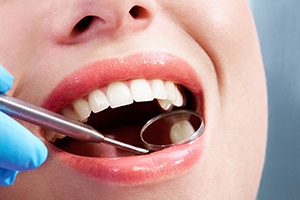 When we perform a dental checkup, we start by asking whether you have had any tooth sensitivity or pain since your last checkup. After that, we thoroughly inspect each tooth. With a mirror and special instruments, we look around every surface for darker areas, which could indicate decay. We then examine your gum tissue to see if it is red, puffy, receding, or showing any other signs of gum disease. Overall, this process can take several minutes but is completely painless. If necessary, we can review our findings with you and recommend treatment to address the issues we see.
What to Expect During a Dental Cleaning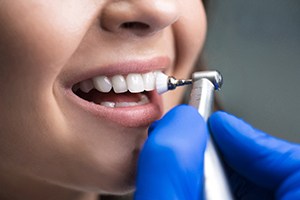 A professional dental cleaning isn't quite the same as what you do at home. Your hygienist has been trained and is equipped to take off hardened plaque, especially near the gumline and between teeth, where it's most difficult to clean. Once all the calculus has been removed, your hygienist will use a powered spinning brush to polish each tooth. Then, they will manually floss between your teeth to capture any remaining debris from the cleaning process. Finally, if you choose to, we can put a gel with concentrated fluoride on your teeth, strengthening them against future decay.
Children's Dentistry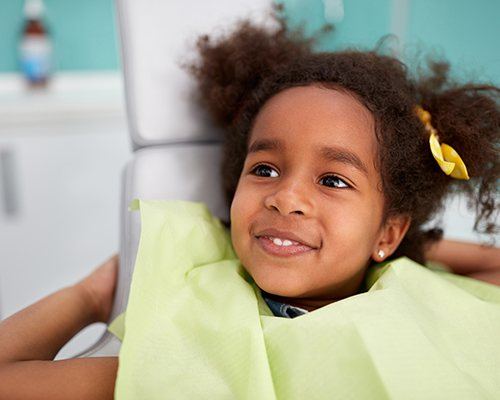 Why search for a separate pediatric dentist when you can bring your children to an expert you already know and trust? Our dentists are happy to accept younger patients and give their still-developing smiles the protection they need to stay healthy and intact all the way to adulthood. If you have any questions about your little one's dental development, don't hesitate to ask; we're here to advise you on dealing with baby teeth, thumb sucking, and other potential issues your child might encounter.
Dental Sealants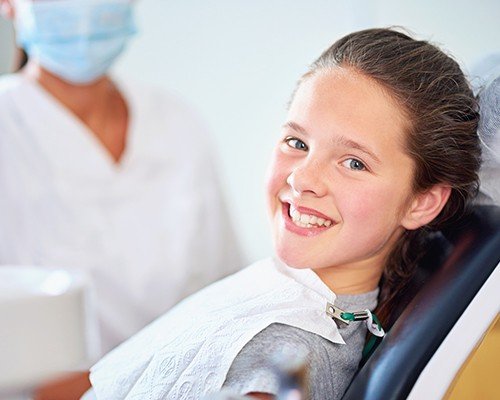 Children are still learning how to brush and floss their teeth properly. As such, there are several nooks and crannies in their mouths that they might overlook despite their best efforts. This means that certain teeth – such as the rough, uneven molars – will be particularly prone to cavities. To give your child a "safety net" until they improve their brushing abilities, we can place a thin coating called a sealant over at-risk teeth to prevent leftover food and cavity-causing bacteria from getting caught in the crevices.
Fluoride Treatment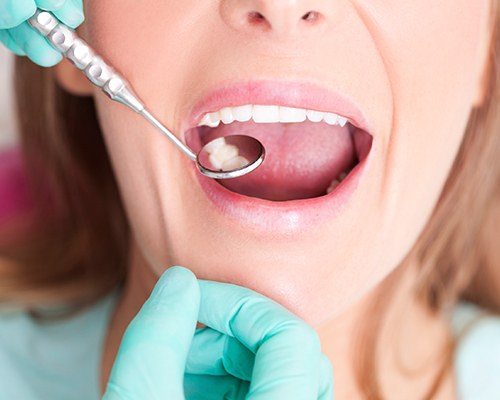 For many decades now, most American cities have been putting fluoride in their tap water, which has helped reduce tooth decay across the country by about 25 percent. This is due to the important role fluoride plays in strengthening teeth and reducing the risk of cavities. A fluoride treatment offers even better protection and can even slow – and sometimes reverse – decay that has already occurred. This procedure is very quick, completely painless, and can easily be performed during a regular checkup and cleaning.
Oral Cancer Screening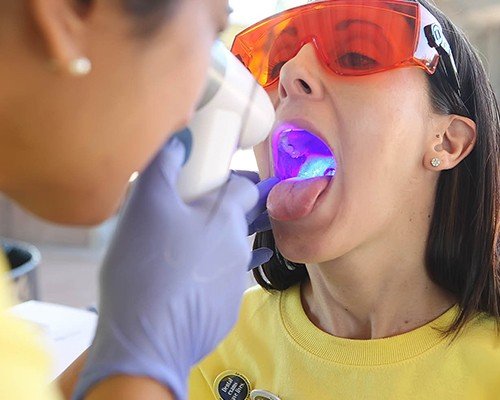 Did you know that your dentist in Bedford is your first line of defense against oral cancer? This deadly disease has an average five-year survival rate of about 60 percent, but the prognosis tends to be much better in cases where it has been identified while it's still localized (meaning it hasn't started to spread). We screen for oral cancer during every regular checkup by looking for discolored patches and strange lumps in your mouth or throat; if we do find something concerning, we can help you figure out the next steps in protecting your health.
Nightguards for Grinding/TMJ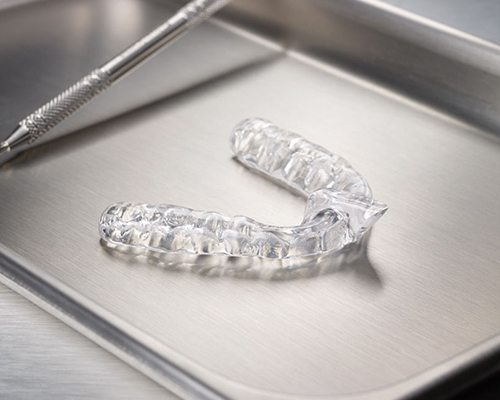 You might not have realized that you're grinding your teeth at night, but we might notice if we find that your teeth are wearing down at an alarming, unnatural rate. Fortunately, protecting your smile from further damage is easy; you simply need to wear a custom-made nightguard to protect your mouth while you sleep. These oral appliances can also help you find relief from potentially debilitating TMJ disorders that can leave your jaw in constant pain.
TMJ Treatment
Your temporomandibular joint (TMJ) connects your lower jaw to the rest of your skull. When it is injured or stressed, you may develop symptoms of TMJ disorder, also called TMD. People with this condition may suffer from persistent jaw pain, difficulty chewing, frequent headaches, and more. Our team is ready to help you find relief. We offer treatments that can relieve tension in your facial muscles and provide a long-term reduction in jaw pain and the other problems that often accompany TMD.