Dentures – Bedford, TX
Recomplete Your Smile
Dentures have been around for centuries, but only in the past few decades have they become optimally comfortable, functional, and aesthetically pleasing. Here at Omega Dental, Dr. Gajera and our team are proud to offer multiple types of dentures in Bedford, all of which are designed to help patients enjoy a confident smile and improved chewing ability. If you are interested in exploring your tooth replacement options, get in touch with us today.
Why Choose Omega Dental of Bedford for Dentures?
Traditional and Implant Dentures Available
Caring and Empathetic Team
Top-Quality Materials
Who Is a Good Candidate for Dentures?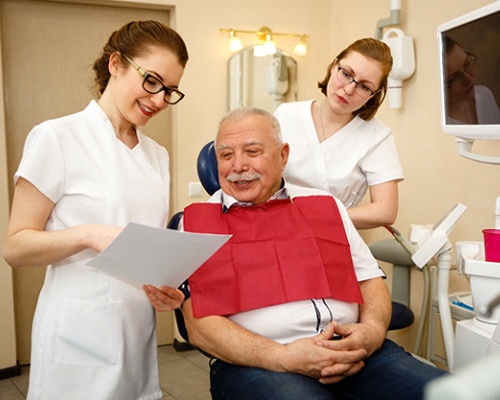 If you are struggling with the consequences of missing teeth, such as limited chewing ability, altered pronunciation, and self-consciousness about your appearance, dentures may be perfect for you. Most patients with healthy gums qualify for at least one type of denture. However, if your tooth loss is limited — for example, if you are missing just one or two teeth — a bridge or another type of tooth replacement may be better for you.
Types of Dentures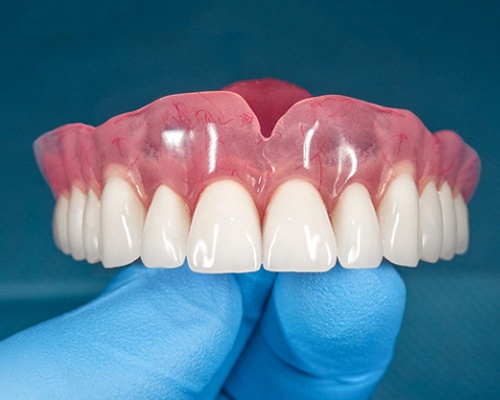 Every patient's tooth replacement journey looks a little different. To find out what may be involved in rebuilding your smile, schedule a consultation with your dentist in Bedford. After Dr. Gajera has the chance to examine your mouth, he may recommend one of the following types of dentures:
Partial Dentures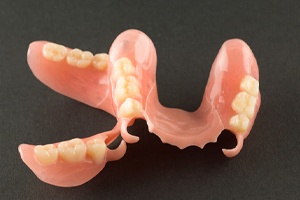 Partial dentures are designed for people who have large gaps between their teeth but whose remaining natural teeth are still in fairly good shape. A partial denture fits in around those existing teeth, sort of like a puzzle piece that goes exactly where it is needed. These prosthetics often consist of an acrylic base with porcelain or acrylic teeth. They have small attachments that help them remain secure in the mouth.
Full Dentures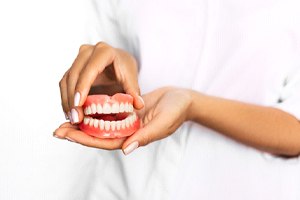 A full denture replaces an entire arch of lost teeth. They are usually held in place via natural suction, though some patients opt to use an adhesive for extra security. Dr. Gajera carefully designs full dentures so they rest as comfortably as possible on the gums and are stable enough to handle most foods.
Implant Dentures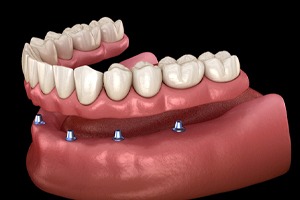 If you are looking for premium tooth replacement, implant dentures may be your best option. Rather than relying on natural suction, they are anchored in the jawbone via prosthetic tooth roots (dental implants). They are an excellent choice for patients who want their new teeth to be as strong and long-lasting as possible. They even help to preserve the jawbone, preventing the changes to facial shape that are common after tooth loss.
The Benefits of Dentures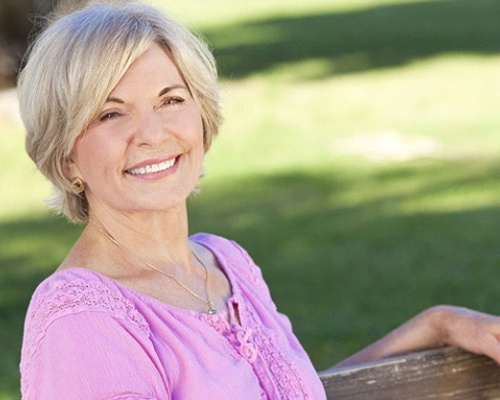 Some of the benefits that patients enjoy with dentures include:
A comfortable, custom fit. As long as you keep up with relines, your dentures should continue to fit well and comfortably for several years.
Pleasing aesthetics. Dentures are designed to complement your unique facial features and look as natural as possible.
Improved chewing ability. With a few modifications to your eating techniques, you should be able to enjoy most foods with dentures.
Cost-effectiveness. Non-implant dentures are one of the most affordable forms of tooth replacement.
Easy maintenance. It is easy to adapt to a new oral hygiene routine with dentures.
Understanding the Cost of Dentures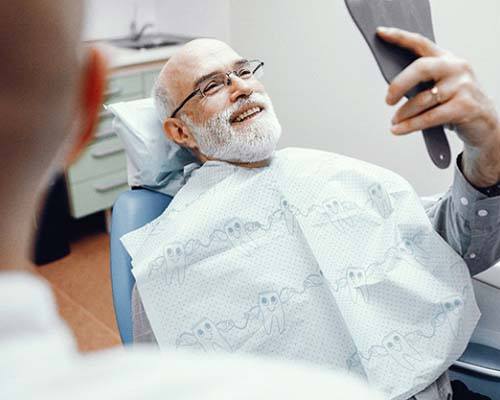 The cost of dentures will vary a lot from person to person, simply because everyone has a unique smile and different needs. During your initial consultation, it will be determined exactly how much you can expect to pay for your brand-new restoration. Until then, here are some of the things that will affect the cost of your dentures in Bedford and some other things to keep in mind.
Factors that Affect the Cost of Dentures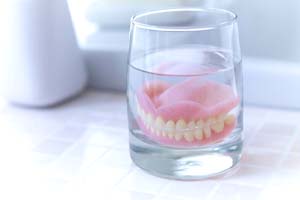 There are a few different factors that contribute to the cost of dentures. Here are some of the most prominent:
The preparation before the denture can be worn, like if you need to have a tooth extracted or gum disease therapy.
The types of materials that are used for both the base and replacement teeth. The base is usually made from acrylic while the replacement teeth can be crafted from acrylic or porcelain.
The number of teeth that you are looking to have replaced.
Remember that just because something is cheaper doesn't mean that it's better, especially when it comes to dental restorations. Budget dentures are more likely to become damaged and require frequent repairs and replacements. If you are looking for optimal comfort and function, quality matters!
Are Implant Dentures More Expensive?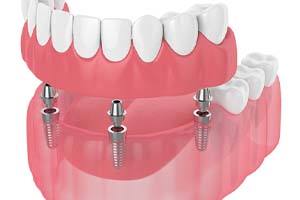 Yes, implant dentures do cost more than traditional dentures, but the is a good reason for it. Instead of being supported by the shape and suction of your gums, implant dentures are held in place by a series of dental implants that are placed in the jawbone. This allows for more benefits, like feeling more lifelike and having additional stability. You won't need to worry about replacing them every 5 to 7 years like you would with traditional dentures because implants are intended to last much longer.
Does Dental Insurance Cover Dentures?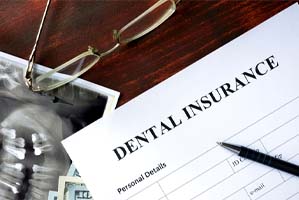 Most dental insurance plans provide some level of coverage when it comes to your dentures. Many of them provide up to 50%, but this varies depending on your plan. Our practice is in-network with numerous popular dental insurance providers, but we welcome out-of-network of network providers as well. Talk to our team so we can help you fully maximize your benefits!
Other Options for Making Dentures Affordable
If you don't currently have dental insurance, this doesn't mean that you are completely out of luck. For instance, we can help you to break up the cost of your treatment into reasonable monthly payments through CareCredit. Together we can come up with a plan that is ideal for your smile and your budget!
To learn more about the cost of dentures in Bedford, schedule a consultation with us. We're eager to help you get your smile back!
Dentures FAQs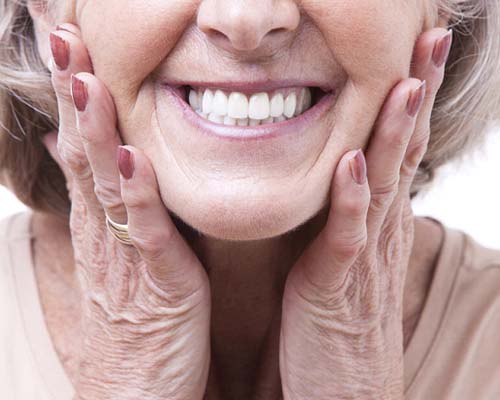 Dentures are a lifechanging tooth replacement option for people who are missing several, most of, or all of their teeth. However, you may still have some answered questions. Here are the answers to some of the most common inquiries we receive about dentures in Bedford. If you don't see the information that you're looking for listed below, don't worry! Give us a call and we'd be happy to answer your questions and schedule you for your initial consultation.
Should I Have All My Teeth Pulled to Get Dentures?
Repairing a damaged tooth when possible is always a more ideal option than replacing it. Tooth extractions of any kind will only ever be recommended if it is absolutely necessary, like when a tooth is severely damaged by decay, and infection, or trauma that has broken off a large portion of enamel. If all the teeth an in arch are decayed or infected with gum disease, this may be the best idea, but all of your options will be explored by your dentist before extractions are recommended.
Can I Sleep with My Dentures?
Dentists generally recommend that you take your dentures out when you go to bed. When you first get your dentures, you'll most likely be told to keep them in your mouth for 24 hours, including when you sleep, but after this, you should be removing them every evening. Wearing dentures restricts the circulation in your gums and can lead to soft tissue irritation and speed up ridge resorption. When you take out your dentures, this gives the gums a chance to recover and get the nutrients they need while you catch some Z's. The dark, moist space beneath the dentures is also an ideal place for bacteria to thrive, so they have been found to be associated with a higher risk of pneumonia. Ultimately, it is a good idea to give your gums a break at night.
Will It Hurt to Get Dentures?
If you need to have teeth extracted before you get dentures, you may experience some discomfort after the oral surgery. Luckily, this can be managed with over-the-counter and prescribed pain relievers. When you first get your new dentures, there will be an adjustment period where you may experience some minor irritation. If you switch to a new set of dentures, this process may take longer than before. If pain persists, give us a call so this can be addressed.
Can You Still Eat Steak with Dentures?
Tough meats, like steak, can be difficult to chew when you have dentures, but it is still possible if you take the right precautions. Select tenderloin and other beef cuts that don't contain as many connective tissues or muscle fibers. Make sure that the meat is thoroughly tenderized beforehand. Cut the steak into small, manageable pieces to make them easier to chew.