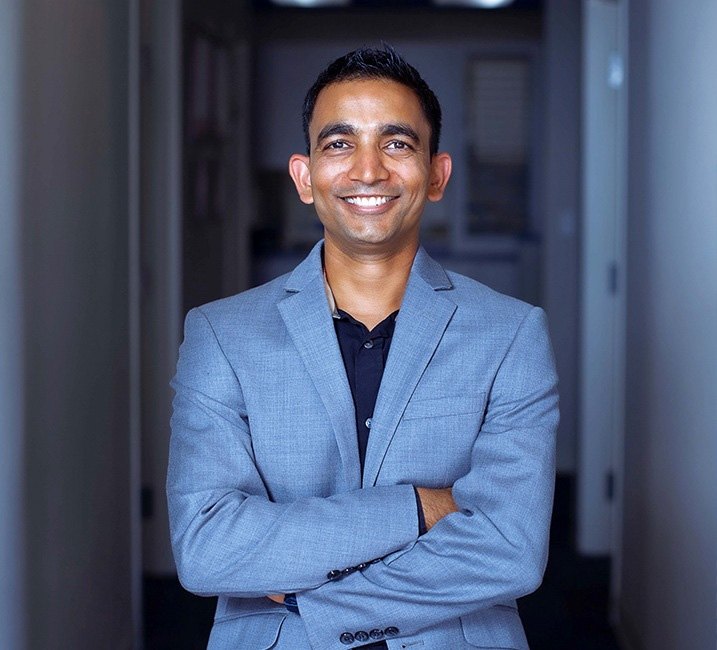 Husband & Wife Dental Team
Meet Our
Dentists
When looking for a new dental office, convenience, quality, and affordability are all big priorities. Our experienced dentists in Bedford are proud to provide all three in your area! They believe in going above and beyond for patients, whether you're interested in dental implants, looking for an emergency dentist, or overdue for your biannual visit. The first step is to schedule a one-on-one visit with them here in our state-of-the-art dental office.
Get to Know Our Dentists
Featured Dental Technology
The Latest Digital Imaging Technology


Learn More
Featured Dental Services
Excellence You Can Rely On
With a wide variety of treatment options in one place, we're able to help our patients nearby pursue their unique dental goals and overcome problems while keeping outside referrals to an absolute minimum. Plus, you can stay with a team you already know and trust! From cosmetic dentistry to modern dentures, our dentists in Bedford are ready to get started when you need them most.
How Can We Help You?
Explore All Our Dental Services
What Makes Omega Dental of Bedford Different?
What Dental Patients Are Saying
"If I could give more stars I definitely would. Dr Gajera is hands down best dentist on planet earth. He is very kind and helpful…"

Carole A., Bedford, TX
"Okay y'all so I know the office has come under a new owner but let me tell y'all, Dr. Gajera is a beast at what he does!!! Not only did I have the pleasure of working for him for a year, but I was also his patient and his patient care is like no one else. He always makes sure you're okay and he always has your best interest at heart, so chair side skills = A1. I recommend this place 100% because I have never met someone with such high standards in quality of work. He will do the work but he will make sure it is done right!!!"

Marlene L.
"This is the best dentist I've ever had. Very genuine. Explains everything in detail. Does excellent work. Highly recommend for any age."

Deneen C.
"The absolute best dentist in the world!! amazing staff; always so welcoming and friendly and make every interaction so personable! every trip to the dentist is always so pleasing and i always leave so satisfied! they all go above and beyond to make sure i leave a happy patient! … 10/10 you will not be disappointed. "

Vanessa S., Bedford, TX
"Dr. Gajera is literally the best!! I took my 10 month old for her check up and was blown away by the whole experience. All of the documents were electronically filled, which is amazing if you have kids or horrible handwriting. The waiting area is to die for! Neat, clean & coffee!!! …Tbh it's your loss if you don't get seen by Dr. Gajera!!"

Diana L., Bedford, TX
"Great customer service. Dr. Gajera is amazing especially with kids. The staff makes you feel so comfortable. … did a root canal two days before Christmas …Did two extractions and it was a breeze…Two dental implants today and It was minimal pain. I'm eating and drinking like normal already. I'm convinced Dr. Gajeria is a dental magician. My treatment is almost complete. Yay!"

Trevlyn J., Bedford, TX
"I had an emergency with my front tooth, and the dr and his staff were amazing! They got me in right away, gave me a comprehensive plan on what we should do with my tooth, and made me feel very informed and comforted. …this office truly cares about their patients and will give you the best care available!!"

Nikkii S., Bedford, TX
"I had the most amazing experience here! Dr. Gajera was absolutely amazing! He made me feel so comfortable and was soo nice! He took the time to explain my options and everything!...Front desk girls were amazing too! 100/10! If you're thinking about coming here, DO IT! you won't regret it!"

Mallory G., Bedford, TX
"What an amazing experience!!! I would highly recommend Omega Dental in Bedford. I received 5 star treatment from the moment I walked through the door…If you are looking for excellent dental care and phenomenal customer service make an appointment with Omega Dental today!"

Yolanda W., Bedford, TX
"… When I got there, I was greeted with warm smiles and going above helpful. Everyone explained how everything was going to go from beginning to end…they had me laughing so hard i couldn't focus on being still. Then the Dentist was soo patient... Best Dentist and was definitely worth the drive and was soo affordable. You won't be disappointed…"

CJ W., Bedford, TX
"OMG he has been my dentist for years he is the best in DFW!! The staff makes you feel completely at ease. They make you feel very comfortable and welcome. I highly recommend his dental practice.. So glad he decided to open his own practice. Omega Dental has my business. :)"

Tomasa H., Bedford, TX
We Make Exceptional Dental Care Affordable
Dental Insurance & Financing Options
Our dental team near Arlington firmly believes that cost shouldn't stand in the way of your smile goals. We are proud to be in-network with several major insurance companies, including Aetna, Cigna, and MetLife. Plus, we'll handle all the paperwork, maximize your benefits, and ensure you understand the cost of dental care so there are never any surprises. Don't have a dental plan? We also welcome financing through CareCredit and extend special offers. With us, everything from essential preventive care and lifelike veneers to smile-perfecting Invisalign can fit into your budget!
World-Class Dental Care Near You
Locating Our Office
Our team is excited to welcome new and existing patients to our practice at 2200 Airport Fwy #480. We are just off Texas 183 TEXpress and Highway 121, making us extremely convenient for patients looking for a dental team near Hurst or a dentist near Colleyville. Plus, we are surrounded by a number of food options, including Starbucks, Einstein Bros. Bagels, McDonalds, and On the Border Mexican Grill & Cantina (to name a few!). If you have any difficulty locating our office, make sure to give us a call so we can provide you with easy, step-by-step instructions.
Frequently Asked Questions
At Omega Dental, we want you to be fully informed and confident in your decision to pursue the right form of dental care. If you're like most patients looking for a qualified dentist, you have many questions, and we want to provide you with the answers! This is why we've compiled some common questions asked by many of our current clients. If you don't see your answer below, simply call our office! We'll be happy to address your concerns and even schedule an appointment for you to see Dr. Prashant Gajera or Dr. Julyat Gajera.
Can you just walk into a dentist's office?
While it is possible to simply walk into a dentist's office, there's a good chance you may not be able to see someone that same day. Why? Because most practices abide by a scheduling system. Although there are cancellations and times when patients need to reschedule, dental teams work hard to keep appointments on time as well as provide patients with the personalized attention they deserve. At Omega Dental, we encourage all new and current patients to call our office to schedule an appointment when it's most convenient. Offering late and Saturday appointments, finding a time that is right for you is easier than ever before!
How do I get emergency dental care?
First, you should consider if the situation is life-threatening. If so, you'll need to call 911 immediately. If not, simply call our dental office and inquire about getting in for an emergency same-day appointment. Most emergencies (i.e. toothache, chipped/broken tooth, lost crown or filling) can be treated at home until an appointment time is available; however, for situations where a tooth is knocked out, time is of the essence, and we'll need you to come in right away to try and save the tooth.
As always, we will work to get you in as soon as possible. We know you don't want to be in pain any longer than necessary, which is why we will work quickly to identify the problem, treat the symptoms, and develop a plan to improve your oral health.
How much does it cost to get a tooth pulled without insurance?
The average cost of having a tooth extracted is between $150 and $400. Many factors determine how much you can expect to spend, such as:
The type of tooth you need removed
The type of extraction you will need (simple or surgical)
The location of the dentist's office
Whether you have dental insurance or not
With dental insurance, you can expect your insurer to cover a portion of the overall cost; however, if you are uninsured, you'll need to discuss with our team how you plan to pay for treatment. We partner with CareCredit, which is a third-party financier that offers low and no interest payment plans to help you better manage your budget.
What do you do if you can't afford a dentist?
When you think you cannot afford to see a dentist, consider your options before deciding to forgo treatment. Do you have dental insurance? Are you eligible for financing? In most cases, dental offices will go out of their way to help you find the right solution when it comes to paying for treatment.
With dental insurance, you can trust that your insurer will cover a portion or all of your treatment. This is dependent upon if you've met your deductible and where you stand with your current annual maximum. Most plans cover between 80-100% for preventive services, 70-80% for minor restorative care, and 50-70% for major restorative treatment.
If you are uninsured or need help paying the remaining balance not covered by insurance, you can apply for available financing through CareCredit.
How can I find the best place to get dental care?
Want a "dentist near me" who is close in proximity to your home or work? Need someone who offers preventive, restorative, cosmetic, and emergency dentistry? Knowing what it is that you want from a dental practice can help you more easily decide where you want to call home.
At Omega Dental, our dentists are pleased to be located in Bedford, TX, and offer a wide range of available services, each designed to meet your oral healthcare needs. From dental implants and teeth whitening to general checkups and orthodontics, we've got you and your family covered.