Tooth Extractions – Bedford, TX
Making Way for
New Teeth
Saving your natural teeth is always the ideal option, but sometimes it simply isn't possible. At that point, the only choice might be to remove the tooth so that it can be replaced with a dental implant or another type of prosthetic. Here at Omega Dental of Bedford, we'll make sure that tooth extractions in our Beford, TX dental office are performed as safely and efficiently as possible, and we'll help you explore your options for filling the gap. If you think you might need an extraction, contact us today.
Why Choose Omega Dental of Bedford for Tooth Extractions?
Implants for Tooth Replacement
Quick and Easy Scheduling
Focus on Excellent Patient Care
Why Have a Tooth Extracted?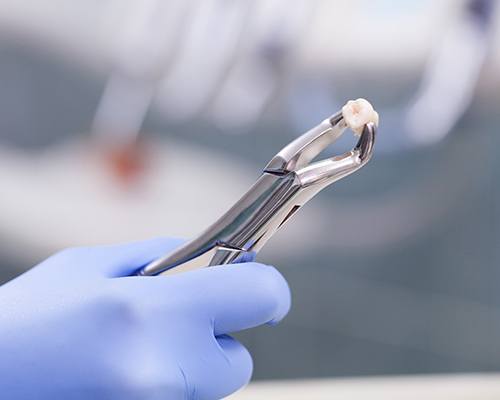 After a careful examination, we might recommend having a tooth extraction if:
The tooth was broken in a way where it cannot be repaired with a crown or any other type of restoration.
The tooth is badly decayed and beyond saving even with root canal therapy.
The tooth is impacted, meaning it is trapped under the gums where it is likely to cause pain and a number of oral health complications.
You are undergoing an orthodontic procedure, and a tooth needs to be removed in order to make the needed adjustments.