Tooth Extractions – Bedford, TX
Sometimes Tooth Removal Is the Right Decision
Removal is not the first option Dr. Gajera wants to consider when you have issues with a tooth, but sometimes it is the only choice. The damage may be so significant that extraction is necessary to preserve your oral and general health. When tooth extractions in Bedford are required, our team will make sure you understand why this approach is being recommended to you and that you're comfortable throughout the procedure. Keep reading to learn more about this emergency dental treatment or give us a call because sometimes tooth removal is the right decision!
Why Choose Omega Dental Of Bedford For Tooth Extractions?
Implants For Tooth Replacement
Same-Day Appointments Available
Walk-Ins For Emergencies Welcome
Reasons Why Tooth Extractions Are Necessary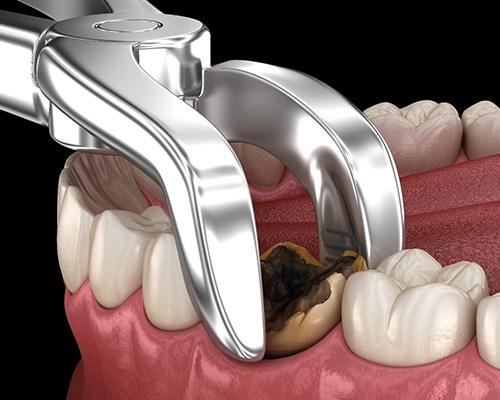 At Omega Dental of Bedford, tooth extractions are only recommended if the tooth in question cannot be salvaged using a dental crown or root canal therapy. Although preserving as much of the natural tooth structure as possible is ideal, removal may be the best option for your oral health if you have:
Extensive decay or irreparable damage to a tooth
Severe infection that could spread
Advanced periodontal disease or jawbone loss
Primary tooth that hasn't fallen out
Impacted tooth
The Process of Removing a Tooth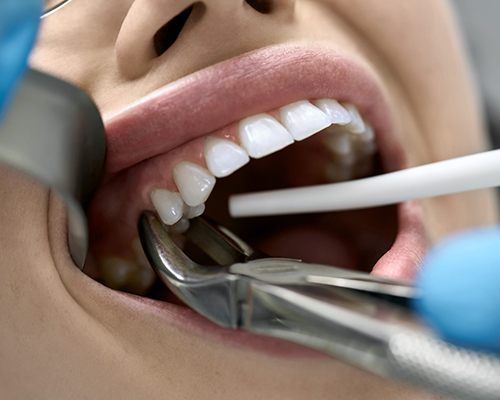 The last bit of advice you want to hear from your dentist is to have a tooth pulled. However, it may surprise you to learn an extraction is not as terrifying as it sounds! There are two methods commonly used for removing a tooth: simple and surgical.
A simple extraction is done for a tooth that has fully erupted and is completely above the gumline. After our dentist numbs your mouth, they'll grasp the tooth with dental forceps and rock it back and forth until it separates from the gum tissue.
Meanwhile, a surgical extraction is an ideal option for a tooth that isn't fully above the gumline. This method involves making a small incision in the gums to access the tooth. Like a simple extraction, dental forceps will be used to grasp the tooth and remove it.
Tooth Extraction Aftercare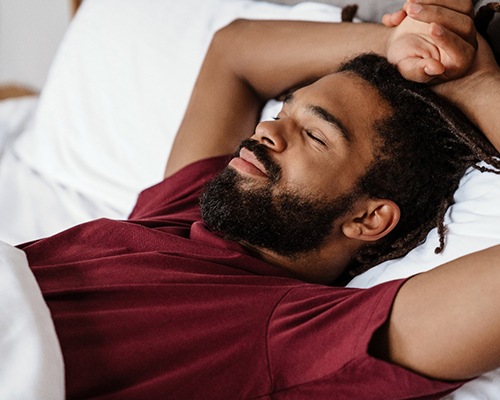 Following your tooth extraction, you'll receive post-op instructions from your emergency dentist in Bedford that you'll need to follow diligently to make a swift and comfortable recovery. By keeping your mouth as clean as possible, you can ensure the surgical site heals properly. Here are some aftercare tips to keep in mind:
Take prescribed or over-the-counter pain medication as needed to alleviate your discomfort.
Gently brush and floss around the surgical site to keep it clean.
Rinse with warm salt water after 24 hours to disinfect the site.
Stay hydrated and get plenty of rest to promote faster healing.
Use a cold compress on the outside of your mouth to minimize pain and swelling.
Avoid drinking from a straw.
Do not eat hard, crunchy, sticky, sour, or spicy foods for the first few days.
Understanding the Cost of Tooth Extractions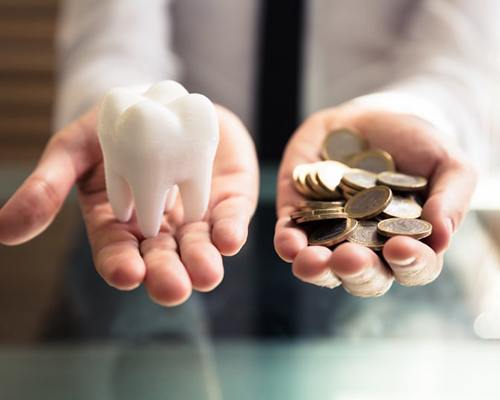 Being told that you need to have a tooth removed can be scary at first. Even if you fully understand that the procedure is what's best for your oral health, you might still be worried about how much it will cost. It's not easy to provide an accurate estimate for the cost of a tooth extraction in Bedford until we know the details of your particular case. However, our team at Omega Dental of Bedford will make sure you thoroughly understand all of the pricing information involved. We'll also explore your options for making the procedure more affordable, such as dental insurance.
Factors That Can Affect Tooth Extraction Cost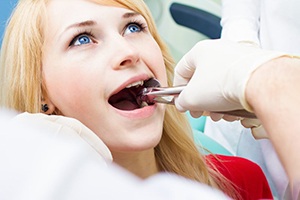 No two smiles are exactly the same, making it virtually impossible for our team to estimate how much your tooth extraction will cost before we've had the chance to conduct an exam. At your appointment, one of our dentists will evaluate your mouth and determine what exactly is necessary for your tooth extraction. Based on their findings, the price of your procedure can be influenced by multiple factors, such as:
Number of teeth being removed – Naturally, it will cost more to extract several teeth than it would to remove a single tooth.
Complexity of the procedure – Extracting an impacted wisdom tooth requires additional time and expertise than extracting a tooth that has fully erupted past the gumline, increasing the total cost of your treatment.
Next steps – Depending on whether you're choosing to replace the tooth afterward, such as with a dental implant or bridge, we may need to take extra steps with your extraction, like bone grafting. These will add to your overall costs.
Does Dental Insurance Cover Tooth Extractions?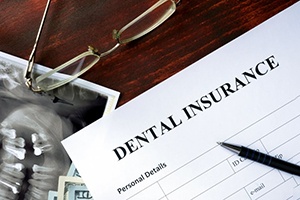 After your deductible has been met, it's very likely that your dental insurance carrier will cover a portion of the cost of your tooth extraction (including wisdom tooth extractions). In many cases, this amounts to about 50% of the cost, but the exact percentage can vary from one plan to the next. Also, some plans only cover a certain number or type of tooth extractions in a given time period.
If this sounds confusing, don't worry – our team is here to help! Not only are we in-network with many of the leading PPO dental insurance providers, but we can also handle the process of filing claims on your behalf and make sure you're getting the most out of your plan's benefits.
How to Make Tooth Extractions Affordable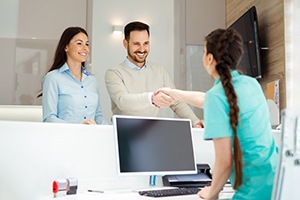 Do you not have dental insurance? Does your plan not cover enough of your tooth extraction costs? No problem! Our practice welcomes affordable third-party financing via CareCredit. With one of their convenient payment plans, you can split up your treatment costs into monthly installments rather than having to pay the entire thing in one lump sum. Plus, many of their plans have low or even no interest rates! Ask a member of our team today about CareCredit, and we'd be happy to help you start the application process!
Tooth Extractions FAQs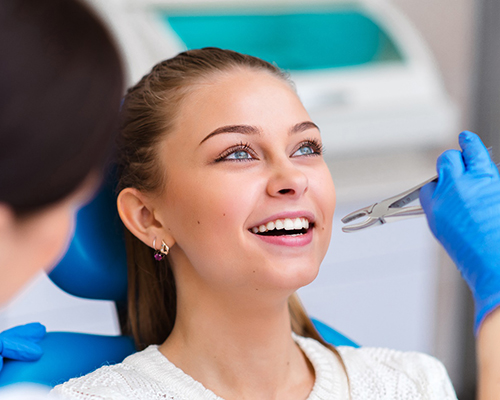 While the main priority is to keep as many of your natural pearly whites as possible, sometimes this isn't always a viable option. Whether one or more are severely decayed or if there was an accidental injury, various situations can cause you to need a tooth extraction. Our team at Omega Dental of Bedford understands how daunting this treatment might seem at the beginning. To make you feel more comfortable, we've collected and answered some of the most commonly asked questions about tooth extractions in Bedford. Read on or give us a call today to learn more!
Does Getting a Tooth Pulled Hurt?
It might be tempting to hold off on a tooth extraction because you aren't sure if the procedure will be uncomfortable. However, our team will ensure to completely numb your mouth before starting your treatment. Though you likely won't feel much during the procedure, other than slight pressure, you may experience mild soreness after your appointment. You can easily manage this by strictly following our aftercare instructions, which include taking over-the-counter or prescribed pain relievers. If any discomfort persists or worsens, contact us right away.
What's the Recovery for Tooth Extractions Like?
Our team will provide you with a detailed list of your aftercare guidelines before and after your procedure. Following these instructions to the letter will help ensure a smooth and speedy recovery. One essential task is to care for the blood clot that will form around your surgical site. Neglecting to do so can lead to an uncomfortable condition known as a dry socket, which can make your smile vulnerable to bacteria and infection. Maintaining proper oral hygiene throughout your healing process can help reduce your chances of complications as well as promote faster healing. Within three days after your appointment, you should be able to brush, floss, and rinse your smile comfortably and safely.
Is There an Alternative to a Tooth Extraction?
This may depend on the severity or stage of your dental situation. If you have a severely decayed tooth, then you could opt for root canal therapy to save it instead. Those with periodontal disease can choose to undergo root scaling and planing as an alternative solution as well. For this reason, it's important to discuss your viable options with our team during your initial consultation, as we will only recommend a tooth extraction if it's absolutely necessary. For some patients, this treatment is essential for regaining a strong, comfortable, and healthy smile.
Can I Smoke After Getting a Tooth Extracted?
You should never smoke or use any tobacco products after tooth extraction. Doing so can cause complications in your recovery as well as make you more susceptible to bacteria growth and infections. We highly suggest that you refrain from smoking for five days after your appointment at the very least. Feel free to reach out to our team if you're having difficulties keeping this habit at bay! We'll be able to provide the support, guidance, and resource you need to make this process as smooth as possible.