Root Canal Therapy – Bedford, TX
Relieve Tooth Pain Through Restoration
Does drinking iced tea or hot coffee have you agonizing in pain? Maybe one of your teeth has simply been hurting constantly for a while now. In either case, it would seem you are dealing with an infection inside the dental pulp – the bundle of nerve endings located at the center of your tooth. Since this area is so sensitive, it can cause discomfort to the degree that it interferes with your daily life. Hope is not lost, however, because here at Omega Dental of Bedford we want nothing more than to relieve your tooth pain through restoration and give you a reason to smile once again. Contact us so we can get you back on track with root canal therapy in Bedford!
Why Choose Omega Dental Of Bedford For Root Canal Therapy?
Same-Day Emergency Appointments
Proudly Welcome Dental Insurance
Dental Sedation Available For Comfort
Do I Need Root Canal Therapy?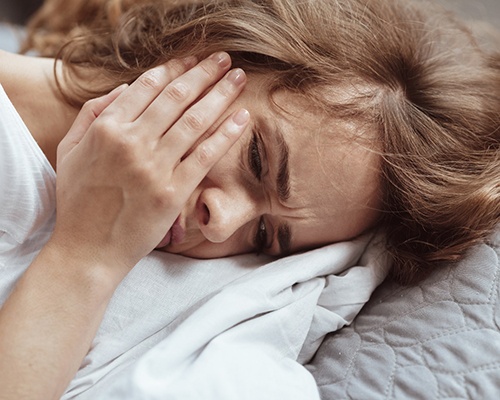 The most common indication of the need for a root canal is a severe, persistent toothache. However, that is certainly not the only symptom to look for. Other signs you might need a root canal include:
Extreme, prolonged sensitivity to hot or cold foods or beverages
Sharp pain when biting down
Dark discoloration of a tooth
Swelling or redness of the gums surrounding a tooth
A pimple-like bump on the gums near a tooth
As soon as you notice any of these symptoms, contact our team. We'll get you in for an emergency appointment with Dr. Gajera ASAP.
The Root Canal Process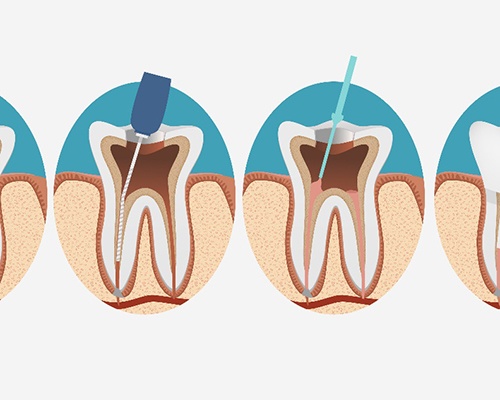 The term "root canal" gets a bad rap, but this procedure is actually painless. In fact, by removing the infected nerve of the tooth, a root canal is designed to relieve pain. Plus, your emergency dentist in Bedford will numb your mouth with a local anesthetic beforehand so you will remain comfortable throughout the process.
We will begin by using special instruments to access the inner chambers of the tooth and remove the pulp that's triggering your pain. After sanitizing the area, we'll refill it with a synthetic gutta-percha material to retain the tooth's shape. The next step is to seal and protect the tooth by placing a temporary dental crown. As your mouth heals, the area around the tooth might feel a bit sore and tender.
A few weeks later, we will see you at our dental office. Then, we'll switch out your temporary crown for a permanent one. At that point, the underlying tooth should be fully protected. You'll be able to use it as you normally would – bring on that cup of coffee!
The Benefits of Getting a Root Canal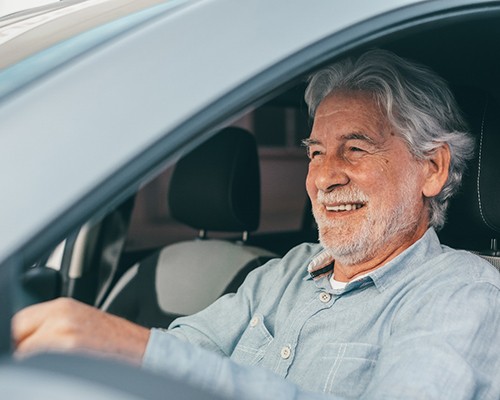 While replacement options like dental implants definitely have their benefits for your smile, preserving your natural tooth should always be the primary goal. If you hesitate to get a root canal when you need one, the infection might progress to the point of no return and your tooth will have to be extracted entirely. Removing and replacing a tooth is a much more complex, time-consuming, and wallet-draining venture than root canal therapy.
In addition to saving your natural tooth, root canal therapy has other benefits:
Virtually pain-free procedure – Thanks to the advanced dental technology we use, getting a root canal is about as comfortable as the process for an ordinary filling.
High success rate – The vast majority of root canal patients retain their treated tooth for decades, if not the rest of their lives.
Aesthetically pleasing results – After your root canal, your tooth will be restored with a custom-made dental crown that seamlessly blends in with the rest of your smile.
Understanding the Cost of Root Canals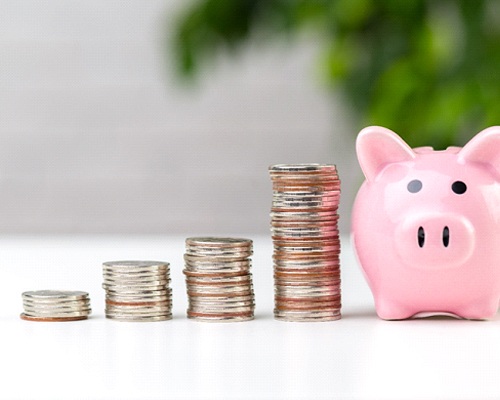 Before we can tell you how much your root canal will cost, there are many different factors that need to be considered. To get a specific estimate of how much your treatment will be, schedule an appointment with us. We'd be happy to talk with you about your financial options. In the meantime, here are some things to take into consideration.
Factors That Can Affect Root Canal Cost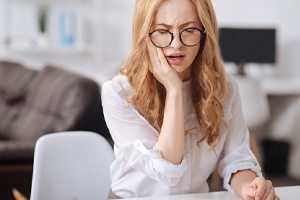 It is very difficult to determine the exact cost of root canal therapy until we've had the opportunity to take a look at your smile. Here are some of the factors that can influence the cost:
Location of the Tooth: Root canals tend to cost more for molars than front teeth because they have more roots.
Difficulty of Procedure: The more challenging the treatment process, the more it will cost.
Any Additional Services: If you need another service, like a dental crown, this will contribute to the cost.
Is it Cheaper to Pull My Tooth?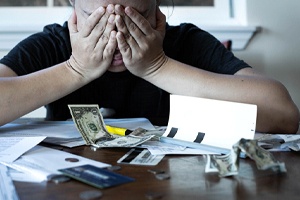 It is common for patients to want to skip the root canal process by having an extraction instead. Extractions do tend to have a more affordable upfront cost, but you will also need to consider the long-term costs. For instance, your bite could be negatively impacted as a result of the surrounding teeth shifting out of place. This requires additional treatments. To prevent this from occurring, it is recommended that you have the tooth replaced with a dental implant or bridge, but this means additional costs. A lot of the time, it is more cost-effective to save your natural tooth than pay for an extraction and replace it later.
Does Dental Insurance Cover Root Canals?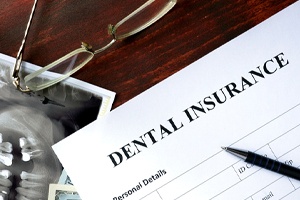 Root canal therapy is usually considered to be a major procedure, so you can usually expect approximately 50-80% coverage of the cost after you've met your annual deductible. However, every plan is different, so it's important to confirm what's covered by your insurance provider. At Omega Dental of Bedford, we are in-network with numerous popular insurance plans, and we'll honor your co-pay costs associated with any insurance. We're always here to help you maximize your coverage!
Other Options for Making Root Canal Therapy Affordable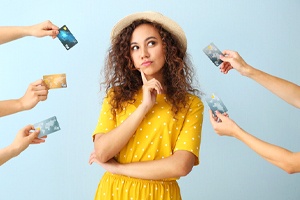 If you don't have dental insurance, this doesn't necessarily mean that you're completely out of luck. We work with CareCredit – a third-party financing company that can split the cost of your treatment into manageable monthly installments with little to no interest. To learn more about your financial options, talk with one of our friendly team members.
If you think you may be in need of a root canal, give us a call. We'd be happy to answer your questions and help you with the process!
Root Canal FAQs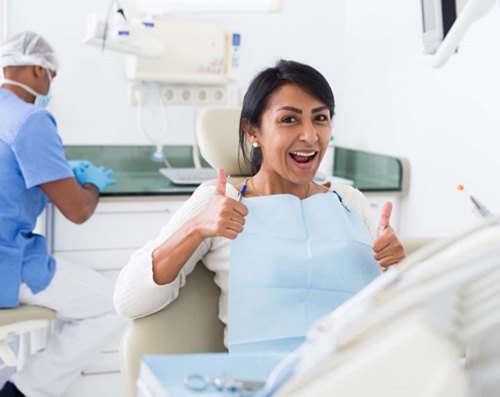 Our team here at Omega Dental of Bedford is thrilled to assist you with any questions or concerns that you might have about your upcoming root canal! Even though this procedure might sound a little intense on the surface, it's designed to alleviate discomfort and give your compromised tooth the help it needs. Below we've gathered a few of the most frequently asked questions that we receive about root canals for your convenience. If you have any other questions about root canal therapy, feel free to contact us today for additional information.
Are Root Canals Painful?
Remember, a root canal is designed to stop the pain at its source and to prevent it from spreading further; that said, root canals are not nearly as painful as you'd think—in fact, most patients compare it to receiving a dental filling! This is all thanks to modern advancements in dental technology, techniques, and sedation methods. It's worth noting that some soreness in the days following a root canal is normal, but to ease this discomfort, you can place a cold compress against the outside of your cheek or take an over-the-counter pain reliever. If your symptoms don't improve after a few days, don't hesitate to give us a call.
How Long Does a Root Canal Take?
Although the exact length of the root canal process will vary from patient to patient, the procedure can typically be completed in a single appointment! The overall duration depends on factors such as the type of tooth being replaced and where it is located; since molars (back teeth) have more roots than front teeth, they have more root canals that must be disinfected—needless to say, this takes a little extra time.
How Long Do Root Canals Last?
You'll be happy to hear that root canals have a remarkably high success rate. Most teeth that have been treated with root canal therapy are able to provide full chewing function for many years to come, or in ideal conditions, even a lifetime. The longevity of your root canal will depend on various factors, such as the extent of damage to the tooth and how much time has elapsed between placing the temporary and the permanent filling. To help your root canal last for as long as possible, be sure to follow all post-op instructions closely.
Do I Still Need a Root Canal If My Toothache Went Away?
You might feel inclined to rejoice if your toothache has suddenly vanished—and you might even believe that this means you may no longer need a root canal. However, these situations are often the result of an infection essentially "killing" the nerve of the tooth, reducing the pain that you feel. When this happens, root canal therapy is usually the absolute best option for preventing the infection from spreading further and keeping the tooth inside your mouth.