Orthodontics – Bedford, TX
Greet the World with a
Straighter Smile
Many people love the idea of having a perfectly aligned grin, but unfortunately crooked teeth are all too common. At Omega Dental of Bedford, we offer traditional orthodontics for correcting even the most severe cases of overbite and crowded teeth; however, we're also happy to recommend Invisalign to older patients with milder issues who would rather avoid drastically changing the appearance of their smile. Call us today to take the first step towards straighter, more attractive teeth with orthodontics in Bedford, TX.
Why Choose Omega Dental of Bedford for Orthodontics?
Quick and Easy Scheduling
Early Morning and Late Evening Hours
Affordable, Quality Orthodontic Options
Traditional Orthodontics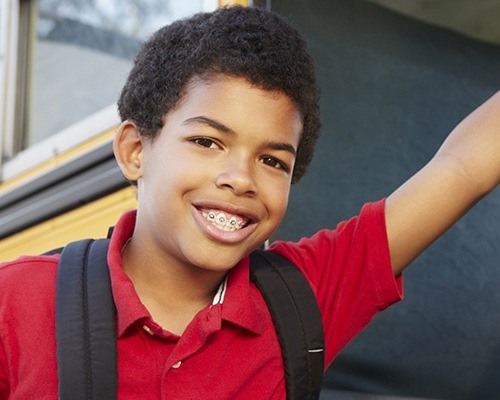 Both children and adults can benefit from traditional metal braces. As you're probably well aware, braces work by slowly pushing the teeth into a new position using a combination of brackets and wires. Braces have been around for a very long time, yet they remain the most reliable way to correct complex orthodontic cases. Typically, you'll wear braces for about 18 to 24 months, although this largely depends on the changes you need to make. At Omega Dental, Dr. Gajera will complete an initial consultation to evaluate your orthodontic needs and refer you to one of the orthodontic experts we work closely with to complete treatment.
Invisalign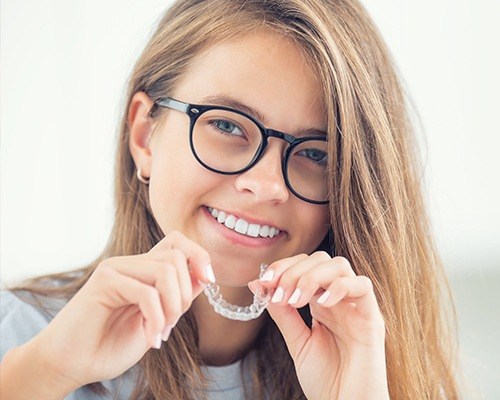 Adults with a professional image to worry about should definitely ask about Invisalign – an image-friendly, more discreet type of orthodontic treatment. You'll wear a series of aligners made out of smooth, clear plastic. Most people won't notice your aligners unless they already know what to look for. When worn for at least 22 hours every day, Invisalign will slowly but surely straighten your teeth and correct your bite. This treatment normally takes about 12 to 18 months.