Implant Dentures — Bedford, TX
Reliable and Long-Lasting Full Arch Tooth Replacement
If you have suffered extensive tooth loss, you may be all too familiar with the challenges that come with an incomplete smile. Not only is it difficult to eat a robust diet, but you might also feel self-conscious about your appearance. Traditional dentures can help with such issues to an extent, but they come with their own set of disadvantages. Is there a better solution? Yes! We often recommend implant dentures in Bedford as the best way to rebuild an entire arch of lost teeth. Contact us today to schedule your consultation.
Why Choose Omega Dental of Bedford for Implant Dentures?
Start to Finish Dental Implant Care
Long-Lasting Results
Friendly and Professional Team
What Are Implant Dentures?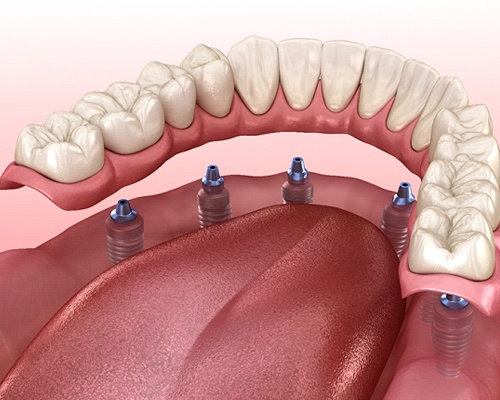 Traditional dentures remain secure in the mouth with the help of natural suction or an adhesive. Implant dentures, on the other hand, are held in place via prosthetic tooth roots (dental implants). They are therefore much sturdier and longer lasting than their traditional counterparts.
Depending on your unique situation, your implant dentist in Bedford might recommend one of the following types of implant dentures:
Fixed/Permanent Implant Dentures
These are permanently fixed to the implants that support them; they can only be removed by a dental professional, a fact that makes them incredibly convenient. It usually takes 4 – 6 implants to support a permanent implant denture.
Removable Implant Dentures
Removable implant dentures, also called overdentures, are easy for patients to remove on their own. They usually require fewer implants than permanently fixed implant dentures. In some cases, a patient's traditional denture can be retrofitted to work as an overdenture.
The Implant Denture Procedure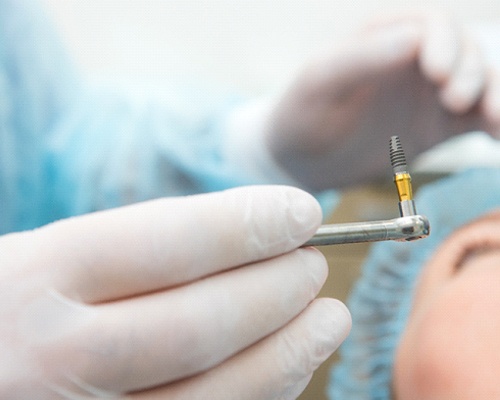 The exact implant denture procedure can vary from case to case, but it usually goes something like this:
You attend a consultation, during which we will welcome you as a patient and plan your treatment.
After any necessary preliminary treatments, we will surgically place the implants into your jawbone.
Following a healing period, we'll secure attachments to the top of your implants; they will hold your prosthetic teeth in place.
We design and place your permanent, beautiful, and functional implant denture.
Am I a Candidate for Implant Dentures?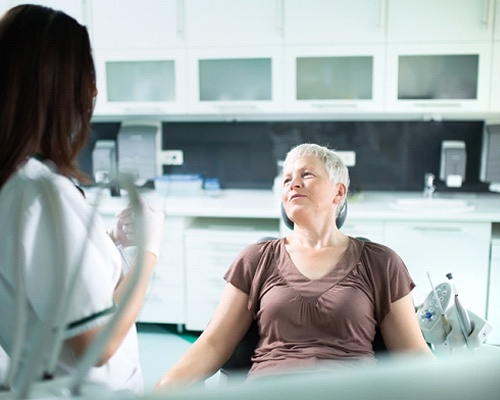 Some common traits of implant denture candidates include:
Fair oral and overall health (for example, you should be free of active gum disease)
A desire to be free of the hassles of traditional dentures
Adequate jawbone density to support dental implants
Excellent oral hygiene habits
If you are unsure whether dental implants in Bedford are right for you, we encourage you to come in for a consultation. Most adults are candidates, either right away or after some preliminary treatment.
Benefits of Combining Dentures & Dental Implants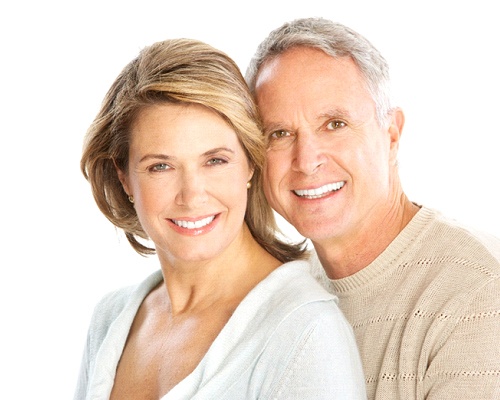 Some of the primary benefits of implant dentures include:
They provide a bite force that is much stronger than what traditional dentures can offer.
Dental implants help to prevent the jawbone deterioration that normally occurs after tooth loss.
Implant dentures look and feel quite natural.
You can expect your new restoration to last for many years, a fact that makes them a better monetary value than traditional dentures.
Understanding the Cost of Dentures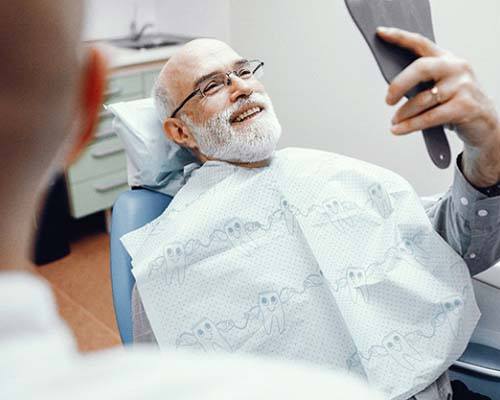 No two smiles are the same, which is why the cost of your dentures can vary. If you have any specific concerns about treatment price, please contact our office to speak with our friendly team. However, we've also included some important information about the factors that contribute to the total cost of dentures in Bedford. Read on to learn more!
Factors that Affect the Cost of Dentures
There are 3 major factors that influence the cost of your dentures:
Preparation: Patients will often need treatment for preexisting issues like gum disease or necessary extractions before they can get dentures.
Base material: The gum-colored base of your dentures can be made with various types of acrylic, and the material used will impact your total cost.
Replacement teeth: Artificial teeth that are fused to the denture base can be made of acrylic or porcelain. It's important that these restorations are lifelike and sturdy for the best results.
Remember, the cheapest option is not always the most ideal. Your smile is worth investing in, which is why you should avoid cheap dentures because they probably utilize subpar acrylic.
Are Implant Dentures More Expensive?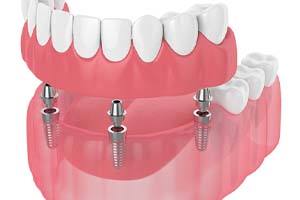 Usually, implant dentures are more expensive than traditional ones, however this is for good reason. Our expert denture dentist in Bedford combines the benefits of dentures and implants to give patients the most stable and strong full smile replacements. Rooted in the jawbone, dental implants are artificial tooth roots that can be used to support a denture. Instead of a slipping, sliding, and irritating prosthetic, implant dentures look, feel, and function like your natural smile. Additionally, they allow you to eat all your favorite foods, giving you the ability to consume a well-rounded diet. Plus, implants themselves can last for a lifetime, which is why your initial investment will pay off in the future.
Does Dental Insurance Cover Dentures?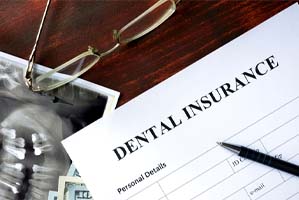 Yes! Dentures are considered a major procedure, which is why most insurance providers will cover around 50% of the treatment. Of course, coverage varies from plan to plan, which is why it's so important to check with your provider before making any decisions. Our friendly team is always ready to help you navigate the confusing world of dental insurance. We will maximize your dental benefits, so you don't have to pay as much out of pocket. Plus, if we have any questions, we are always here to get you the information you need – just call our office!
Other Options for Making Dentures Affordable
At Omega Dental of Bedford, we are committed to making our high-quality dentures in Bedford as affordable as possible. If you don't have insurance, there is no need to worry! We offer alternative financing through CareCredit. With this simple solution, you can choose the monthly payment plan that works best for your budget. Plus, your fees will come with low-to-no-interest, allowing you to enjoy cost-effective dentistry. To learn more, please don't hesitate to contact our office and schedule a consultation.